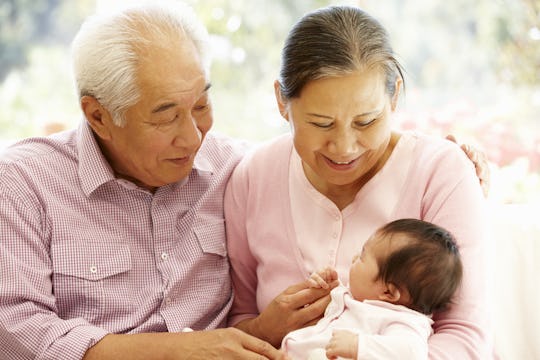 Fotolia
13 Things Your Baby Is Thinking When They Meet Their Grandparents For The First Time
I would do ridiculous things and pay an insane amount of money (via loan, of course) to know what goes through a baby's mind. I can't tell you how many inquisitive or concerned or just damn hilarious faces my son has made, and I can't begin to comprehend the reasons why. So many of those faces were made when he met my mother for the first time, which left me wondering what babies think when they meet their grandparents. I mean, it has to be such a strange situation, right? They're being held by a stranger that kind of looks like their parent, but not necessarily, and this stranger is telling them that they love them and care for them and will do anything for them, and the baby is like, "Um, do I know you?"
I can imagine the day-to-day wonderments of a baby are pretty minimal, actually. They have so much learning and growing and developing to do, that I wouldn't blame them if their thoughts are limited to, "I'm hungry, I want to sleep, I want my mom, I'm hungry." Still, I would like to think that they're cognizant of the world around them, and when that world eventually involves grandma and grandpa (or any combination of grandparent) they're thinking some hilarious and sweet and kind-of-rude-but-well-intentioned things.
So, with that in mind (and because now you all know what I was thinking during night feedings and on zero sleep), here is what I would like to believe every baby thinks when they meet their grandparents for the first time. Until we know for sure (which will probably be never) I'm going to let my imagination do the work.