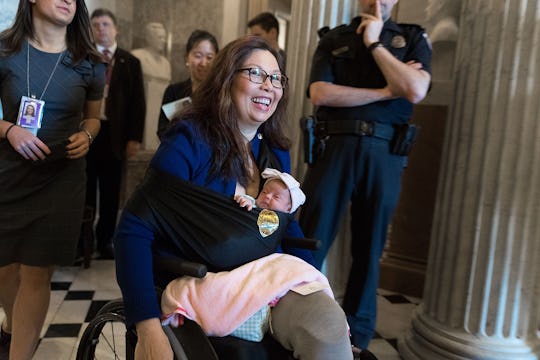 Chip Somodevilla/Getty Images News/Getty Images
13 Women Reveal The One Thing They Wish Their Husbands Understood About Being A Working Mom
Being a working mom is by far the hardest thing I've ever done. Not only do I have to juggle the ever-moving, multiple balls of motherhood, but I'm also our household's project manager, scheduler, administrator, chef, housekeeper, interior designer, dishwasher, laundress, grocery shopper, list-maker, and alarm-setter... to say nothing of the work I'm actually paid to do. To make matters worse, there are so many things my husband just doesn't understand about my life as a working a mom, namely that, in my opinion, it will always be harder than being a working dad.
I've heard similar complaints when speaking with other working moms about their own situations, both at home and outside of it. More moms are choosing to enter the workforce, which is awesome, but we're still largely expected to be the default parents and primary home economists, too. It's not that we don't tell our husbands how we feel, because I think the majority of us understand how valuable communication is in any relationship and are more than capable of handling tense discussions like adults. It's just not easy to get our husbands to understand. I mean, how do you explain to someone how stressful it is to always have to be the one to take the day off when a kid is sick? Or how full your brain gets when you have to keep everyone healthy, fed, clothed, and manage to keep things on track at work, too. Or how ashamed you feel when something inevitably falls through the cracks, or your boss complains about your kid getting sick again.
The truth is, if my husband sent his kids to school in mismatched clothes, or missed a doctor's appointment on accident, or had to skip out on work to stay at home with a sick kid, he would be praised. No one would ask him how he's "balancing it all" and no one would assume he's choosing family over his career, or visa versa. It's clear that working moms are tired of shouldering more than our fair share of the load, which is why we're opening up about the one thing we wish our husbands understood about working outside the home when you're a mom.