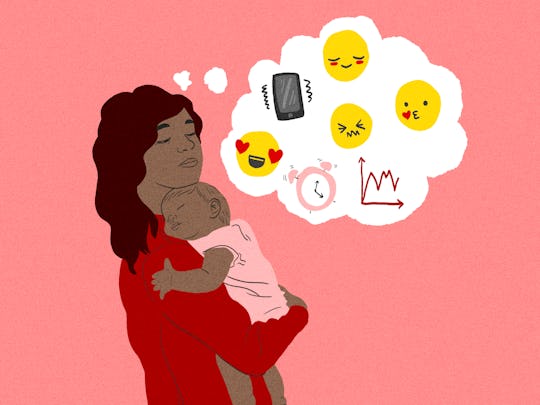 Claire Joines/Romper
14 Moms Share Their Biggest Pre-Baby Fears About Having Kids (That Ended Up Not Being A Big Deal)
Motherhood isn't exactly the scary, messy, mysterious concept that conventional narratives make it out to be (well, OK, it is but that's not all it is). The things that happen to your body during pregnancy are weird and scary enough without the added stigma of the terrifying portrayal of labor and delivery displayed on our TVs, and exclusively focusing on those things takes away from all the beautiful and badass and downright cool things that happen during pregnancy. The same is true beyond birth, when you get to life with kids, as a mom.
There are no shortage of horror stories out there pertaining to the mom life. You don't have to look far to find something about motherhood that's blown out of proportion enough to terrify someone that's about to embark on their own maternal journey. But everyone's story is different, and often what is awful for one person may be perfectly tolerable or even normal to another. Each and every woman who becomes a mother has her own unique story, but there are definitely some ties that inevitably bind us all.
We all worry and question and lose sleep over the looming questions regarding this complex journey we're on. We all read the books and the blogs, and do our best to prepare for the road that's ahead. It can be scary, yes, but often the best place to find solace in your uncertainty is by confiding in someone who has been there before.
So, for all you soon-to-be mom-faces out there (or those of us who have been at it for a while but could never use enough reassurance), the 14 women below will explain some of the things that scared them the most about motherhood. (And as it usually goes, it turns out that the things that they feared turned out to be not so terrifying after all.)