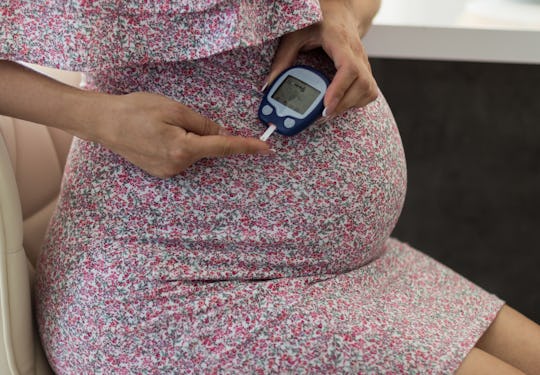 Людмила Ильина/Fotolia
14 Things No One Will Tell You About Gestational Diabetes, But I Will
I knew, going into pregnancy, that there was a decent chance I would have gestational diabetes. After all, my mom had it for all her pregnancies. I was in the clear my first pregnancy but, of course, fate caught up with me during my second. Just as the morning sickness abated, I was diagnosed with gestational diabetes. Lucky me. But despite having more familiarity with the disease than many, there are things no one will tell you about gestational diabetes (GD). I will, though, because I'm cool like that. You're welcome.
First of all, some people aren't even told what GD even is. Unlike Type 1 or Type 2 diabetes, gestational diabetes is a temporary condition — birth cures it. It's pretty neat, honestly. But like other types of diabetes, GD affects how your cells process glucose (also known as sugar), causing high blood sugar levels which, in turn, can negatively affect your health and the health of your developing fetus. Generally there are no noticeable symptoms of GD, which is why it's important to be checked for it.
Another important fact that a lot of people skip over completely is this: most mothers with GD will deliver healthy babies. The biggest complication with GD tends to be bigger than average infants, which can, obviously, complicate vaginal delivery. Pre-term birth and respiratory distress and hypoglycemia are additional, less common risks. But, as G.I. Joe used to say, knowing is half the battle, and these issues can be prepared for (or avoided all together) by knowing you have GD and working with your doctor to control your blood sugar.
Here are some other things to know to help you achieve the best birth outcomes (and maybe some peace of mind):