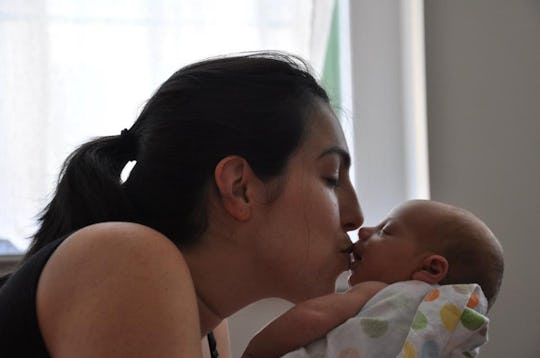 Photo courtesy of Jamie Kenney
15 Moms Describe The First Time They Were Alone With Their Baby
The first time I was completely alone with my son was sort of like finally settling down with a new Christmas toy you've wanted for months, but have no idea how to actually use. Oh, and the instructions are missing. It was thrilling, disappointing, joyous, and frustrating all at once. I didn't really know what I was doing, but I was still happy to be doing it. I asked other moms to describe the first time they were alone with their baby and, predictably, there was a similar amount of contradiction, confusion, desperation, and happiness.
The feelings I had when I was left alone with my second child for the first time, however, were so profoundly and curiously different. Most of the anxiety I'd felt the first time around was gone, probably because I knew what I was in for. While the joy was still there, though, it was a very different joy. It was the joy of someone who knew the kind of happiness motherhood and children can bring. It was a quieter, but more intently focused excitement. If my first child was like getting a new but mysterious Christmas gift, my second was like being presented with my favorite meal and my favorite restaurant. I knew how amazing it was going to be, and I couldn't wait to dive in.
I appreciated the opportunity to be able to hear other mother's discuss their experiences. For one, I always appreciate hearing other mother's experiences, but it was interesting and also reaffirming to recognize so much of the full gamut of my own emotions in their answers.