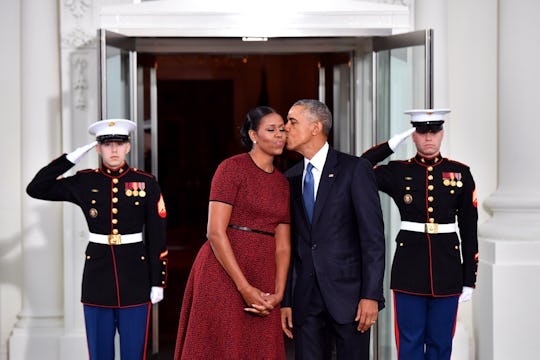 Pool/Getty Images News/Getty Images
If You're Looking For Marriage Advice, These 15 Quotes From The Obamas Might Help
One of the best parts of the Obama presidency was witnessing Michelle and President Obama's relationship thrive. Few famous couples (or couples in general) make marriage look as loving and fun as they do, though they'll be the first to admit their relationship takes work like anyone else's. The Obamas' marriage advice ranges from funny to tender, but the common thread through it all is genuinely liking the person you spend your life with.
Many look up to the former first couple's relationship, with their first date even being the subject of the movie Southside With You. Their connection as a couple was clear throughout President Obama's tenure and after, and Michelle's acclaimed memoir Becoming shed even more light on their relationship, including the fact that they went to couples therapy. Both are candid about their love, acknowledging that even the strongest partnerships take hard work. It's inspiring and refreshing for a couple in the public eye, especially one involved in politics, be so honest about marriage, as it reassures people that ups and downs are normal and should be expected in a healthy union.
No one knows the exact key to a happy marriage, but listening to the Obamas thoughts on it can provide some insight on how to make it work. Read on to glean some wisdom from the couple, who will be celebrating their 27th wedding anniversary in October.