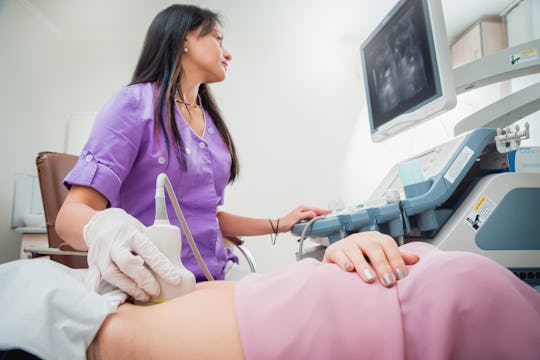 Fotolia
15 Things Every Mom Thinks During Her First Ultrasound, But Doesn't Say Out Loud
Now that I'm staring my son's second birthday in the face, I'm pretty nostalgic these days. In the middle of planning and buying presents and trying not to give him the bike we bought him (it's hard to wait, OK? I am so excited), I am revisiting the past almost-three years and remembering what it was like to get pregnant, have a baby, and raise that baby to be a, now, almost-two-year-old. One of my favorite memories was the firs time I heard the words "you're pregnant," and all the things every mom thinks during her first ultrasound that I definitely, definitely, thought.
My pregnancy was extremely unplanned. I couldn't have been more shocked when the ultrasound technician not only confirmed that I was pregnant, but that I was pregnant with twins. My pregnancy was very difficult and, at 19 weeks, I lost one of my twin sons, however, that first ultrasound was the moment I realized I was going to be the mother of twins, even if one died and, when I birthed him, would never take a breath or a cry. It was the first time someone looked at me like I was (or at least, could be) a mother, and while it essentially was the beginning of a very painful road, it was also the beginning of the most amazing journey; one that ended with my son; one that has made me a better human being.
Because that first ultrasound can have any woman feeling excited and nervous and anxious and scared and any other number of juxtaposing feelings that really shouldn't exist simultaneously, but do, a woman may silently think a slew of valid, hilarious, wonderful and scary things. If that's not the perfect example of motherhood, I honestly don't know what is. So, with that in mind, here are a few things every mom thinks during her first ultrasound, because it's weird, you guys. It's wonderful and scary and weird.