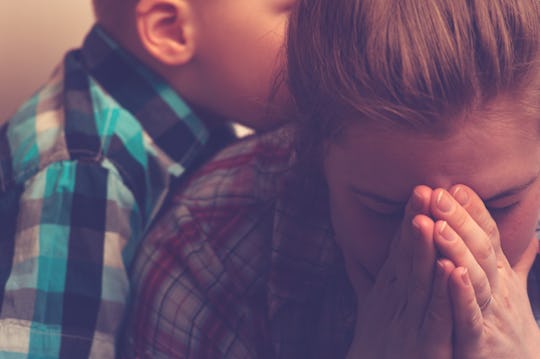 pavel_shishkin/Fotolia
15 Things To Say To The Mom Who Feels Like She's Not Enough
I'm an emotional person. I'm not saying that in a misogynistic way, I'm just naturally very sensitive and I've made peace with this reality. Lots of things can make me genuinely sad, including videos of sad animals, antidepressant medication commercials, and that scene in Moana when Moana gives the ocean back the Heart of Te Fiti. But little can make me sadder than hearing a good mother think, for no good reason, that she's failing. So there are some things I'd like to say to the mom who feels she's not enough because, mama, I see you. I am you.
Please trust me when I say that you that you are enough. You're not failing. Like, there are animals that eat their young, but not you! So, hey, you've got that going for you at the very, very least. Is that a low bar? Yes, but you've cleared it without even trying! Mazel tov.
You're certainly clearing more hurdles that you don't even see every damn day, too. It's easy to focus on the ones you missed and of course we miss hurdles. Anyone would if they're jumping them, or attempting to jump them, all day long. Olympic athletes miss literal hurdles and they're still the best in the world. No one sees an Olympic athlete miss the occasional hurdle and kick them out of the sport. They realize that, yes, that happens, that's part of the process, and you simply learn from it and move on.
So treat yourself kindly, and let me assure you of the following: