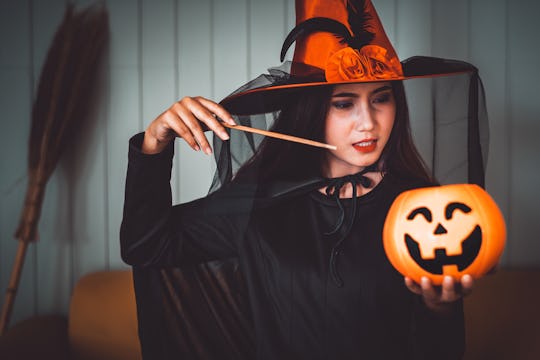 Chobsak Dararuang / EyeEm/EyeEm/Getty Images
24 Halloween Instagram Captions For Some Spooky Holiday Flair
The temperatures are dropping, pumpkin-spiced everything is back in stores, and the calendar says October 31. That can only mean one thing: it's time to add some spooky flair to your social media with Halloween Instagram captions. Let's be real. October 31 and Insta were pretty much made for each other. How else could you show off your Midsommar costume, or that Stranger Things decoration you crocheted that actually kind of looks like a walking vagina, but your husband is too polite to say so?
Instagram has, in some ways, made Halloween a competitive sport — like a global costume contest, with everyone vying to win "Creepiest" or "Quirkiest" or "Most Likely to Be Featured on The Today Show in a Segment called 'Inappropriate Costumes for Small Children.'"
Sure, it's maybe a little annoying to see try-hard parents dressing their entire family as the cast of The Big Lebowski, and forcing their baby into a beard and brown cardigan while holding up a sign that says "The Babe Abides." The attempts at cleverness can be a little cloying at times. And yet... a baby dressed as Jeff Bridges? It's hard not to appreciate.
Halloween has become such a massive, commercial holiday, with the ginormous yard blow-ups, and Target selling everything from 6-foot ghosts to animated monster boom boxes, and Amazon offering deals on Wonder Woman dresses for terriers. It's a lot to take in. And your brain is no doubt already over-taxed with worrying about where to find fake brains for the haunted house your kids are now insisting on making in the garage. So please... kick back with the below captions and take a breath, knowing that come dawn of November 1, it will all be but a Tootsie Roll pop haze.