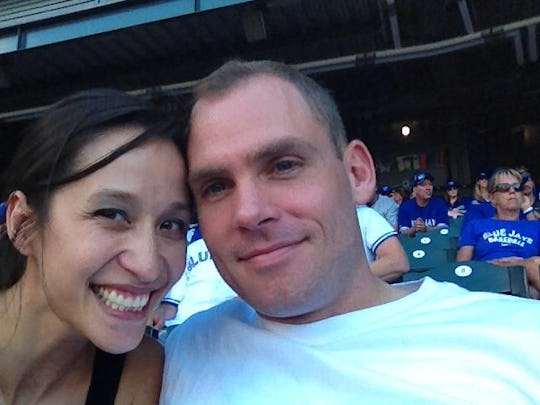 Courtesy of Kimmie Fink
Everything I Can't Wait To Tell My Kid About The Day I Met Her Father
I dated some serious dirtbags in my time, and I didn't exactly make the best choices when it came relationships. It's not something I'm proud of, but it's part of what made me the woman I am today. Still, I think I'll be hesitant to share the details of my wilder days with my daughter. Fortunately, when I met her dad, I got it right. We had a perfect first date that was the beginning of my very own fairytale. That's why I can't wait to tell my kid about the day her parents met.
By the time I met the man who made me a mom, I was 31 and, in my own estimation, damaged goods. I was coming off an emotionally abusive relationship and a seriously unhealthy rebound. My friend actually wrote my eHarmony profile for me. I had to create a new email address for it because I'd filled out the questionnaire a few years before and been rejected by the site (yes, that's a thing, but you can work around it). I went out on a few first dates but knew within two minutes of each one that I wasn't interested in the slightest. Then came the brunch that changed everything.
My husband and I had a whirlwind romance. We were engaged within just a year of our first date, married four months later, and delivered a baby girl exactly nine months and one day from the date of our wedding. I have to pinch myself sometimes because I really do have everything I've ever wanted. I'm so excited for the day I get to tell my daughter how it all started.