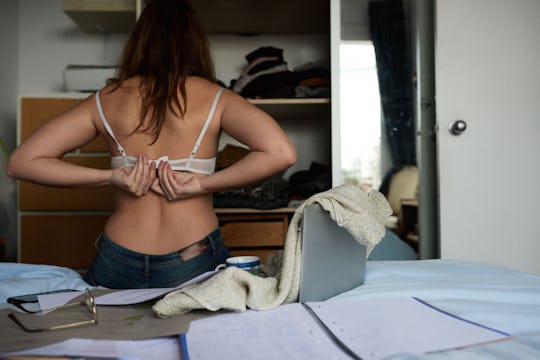 Guille Faingold/Stpcksy
These 25 Hilarious Memes About Taking Off Your Bra Are Totally You
Some experiences are universal: getting butterflies in your stomach when you like someone, crying at the Sara McLaughlin dog commercials, spending more time picking a Netflix movie than actually watching one. And if these memes about taking your bra off are any indicator, removing your undergarments is a decidedly amazing feeling for the bra-wearing community as well. Free the nipple, indeed.
Bras are a necessary evil to most, though you don't actually have to wear them. There's a myriad of benefits to not wearing a bra, but because of a combination of societal expectations and a need for support, it seems like they're going to stick around for years to come. Obviously, some bras are more comfortable than others, and it's not like they're as oppressive as the corsets women were forced to wear for centuries. In fact, some people prefer to always sport that extra chest support — even to sleep — but the majority of bra wearers are thrilled when they finally get to take it off for the day, according to the internet jokes anyway.
Read on for some of the best memes the world wide web has to offer in honor of glorious moment when you finally get to free your boobs of their oppression, and get ready to feel #seen. I'll be counting down the moments until life imitates the meme.