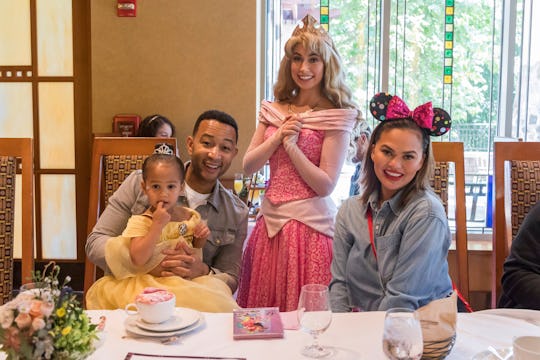 Handout/Getty Images Entertainment/Getty Images
25 Magical & Totally Relatable Photos Of Celebs & Their Kids At Disneyland
On my first trip to Disney World, I waited in what seemed like an hours-long line to hug Ariel. She was one of many fictional faves I got to meet, and my over-priced autograph book was filled with their signatures by the end of the weekend. Five-year-old me saw meeting these characters as the peak of her life, but twenty-four-year-old-me gets just as much of a thrill out of photos of celebrities and their kids at Disney parks.
Celebrities are frequent Disneyland and Disney World visitors for a variety of reasons. Some go to promote their projects; others because they live in L.A., making the trip to the realm of roller coasters and Mickey Mouse super convenient. There are Disney stars who make pilgrimages to visit their park counterparts, and other stars head to the parks simply to give their kids the chance to experience the magic. Going to the Disney parks is basically a right of passage, and being famous doesn't lessen the importance of such an experience.
So you might see a celebrity in the flesh next time you hit up the Magic Kingdom, but there's no guarantee you'll be on the same theme park schedule as your faves. Read on to see 25 adorable pictures of celebrities at Disney with their kiddos to get your fix in the meantime, and keep your fingers crossed that fate will be on your side next time you visit the happiest place on earth.