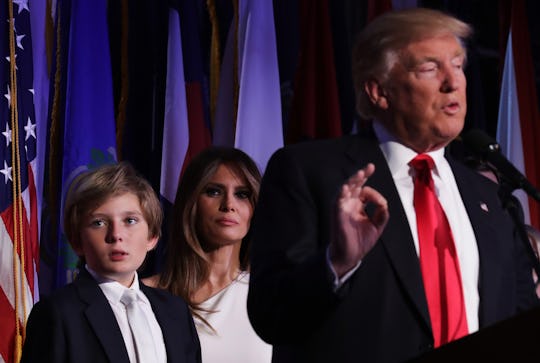 Chip Somodevilla/Getty Images News/Getty Images
5 Times The Trumps Have Already Broken Important Traditions & Protocols
Perhaps the most glaring anomaly of Donald Trump's impending presidency is the fact that it's going to happen at all. Very few truly believed that the real estate mogul and onetime reality TV star would best his Democratic opponent. But he won — despite never having released his tax returns as all presidential candidates in the modern era have, and earning scorn from both sides of the political aisle when he sparred with the parents of a soldier killed in Iraq. Now that he's about to take office, it's clear the Donald Trump will continue to disregard accepted conventions. So far, the Trumps have already broken important traditions and protocols during the transition — making critics even more concerned that Trump's presidency will be as erratic as his campaign was.
As Trump tweeted and insulted his way through the primaries and toward the general election, political onlookers waited for the moment when he would "pivot" and begin sounding and acting more presidential, but that moment never came. Instead, he continued to pick fights and mock as many minority groups as he could; he never ceased hosting rallies that routinely devolved into violence fueled by his inflammatory rhetoric.
Donald Trump was never anything but Donald Trump, and, somehow, that strategy got him elected to the most influential office in the world. And he's not going to pivot now that he's accomplished that, either. In the less than two weeks they've been transitioning, Trump and his family have disregarded custom enough times to reiterate that the next Commander-in-Chief won't fall in line with his predecessors.
Declining Air Force One
When Trump went to Washington, D.C., to meet with President Obama for the first time just days after the election, he traveled on his own Boeing 757-200 instead of Air Force One, which is the mode of air transportation for American presidents. The jet is a luxurious component of Trump's celebrity, and he's dubbed it "Trump Force One." Since then, though, the Secret Service said that Trump won't be permitted to use his personal jet, as it's not retrofitted with the necessary protective technology, and the the cost of installing the necessary features would be prohibitive.
Ditching The Press
The new president-elect has long approached the media combatively and distrustfully. His apparent hatred for the journalists charged with covering him is unusual even for a much-criticized public figure, so it was unsettling but not altogether surprising that he ditched the press soon after his election. The White House Correspondent's Association deemed the president-elect's decision to leave Trump Tower in New York City without informing his press "unacceptable," because it is customary for a president to travel with a "protective pool" of reporters so the American people can be aware of his whereabouts in the case of an emergency. Despite that fact that Trump's team had pledged to set up a press pool, reporters who tracked the president-elect down that night were forced to watch the restaurant he had entered from behind a dumpster.
Including His Kids In Official Business
Trump has denied having requested top secret security clearance for three of his adult children, but the backlash that rumor incurred did not stop him from including his daughter Ivanka in a meeting with the prime minister of Japan. According to The New York Times, the closed sit-down with Shinzo Abe was Trump's first with a head of state, and both Ivanka Trump and her husband and close Trump adviser Jared Kushner were present for at least part of it. This is quite unusual because Ivanka Trump does not hold any official position in Trump's White House and presents a disturbing blur between official and familial business.
Maintaining Unprecedented Conflicts Of Interest
Speaking of Trump's children, relinquishing control of his business dealings to them is the way he intends to quash very serious worries about conflicts of interest. Between his investment ties to major political issues like the Dakota Access Pipeline, his substantial debts to international banks, and the empire of hotels he owns around the world, a President Trump will likely run into many, many instances of having to choose between what's best for his own finances and the wellbeing of the country as a whole — and putting Don Jr., Ivanka, and Eric in charge does nothing to assuage that, as he's in close contact with them. Other presidents have taken more affirmative steps to separate themselves from their business dealings, like to put their investments into actual blind trusts, according to NPR, but not Trump. His massive real estate empire presents an unprecedented conflict of interest with as-yet unknown consequences.
The Family Won't Move Into The White House Right Away
On Sunday, Donald Trump agreed to move into the White House to conduct business as president. But his wife, Melania, and 10-year-old son, Barron, won't move in with him right after the January inauguration, People reported. Instead, the two will wait to make the move until Barron finishes out his school year in New York's Upper West Side.
So far, all that's predictable about Trump is that he's unpredictable, and that his lack of government experience makes him ill-prepared for the presidency. It's unsettling to think that bucking traditions is among the most innocuous of deeds he can to to desecrate that sacred post.