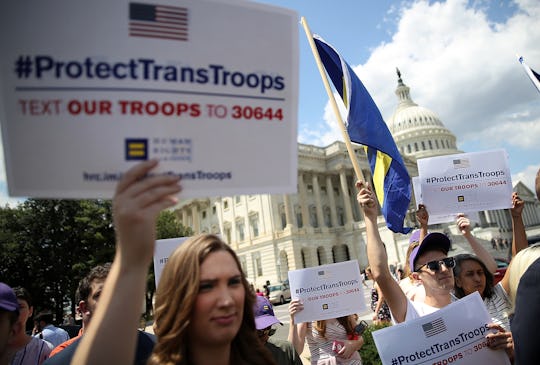 Justin Sullivan/Getty Images News/Getty Images
5 Times Trump Has Actively Targeted Transgender People
During the 2016 election cycle, Donald Trump repeatedly promised to stand up for LGBTQ rights. But as most people know, words are cheap, and action is everything. And through his words, actions, and support for various politicians, there have been way too many times that Trump has actively targeted transgender people and put their lives and well-being in danger.
In response to Trump's announcement on Wednesday morning that the Department of Defense would ban transgender people from joining the military, the Democratic National Committee released a statement saying that Trump's promises to the LGBTQ community were pretty much meaningless. In addition to calling Trump's tweets about the proposed ban "cowardly," the organization wrote:
Donald Trump said he would protect LGBTQ people, but today's decision to ban transgender Americans from serving in the military proves his promise was another bald-faced lie. Democrats stand with the transgender community and we will fight this administration's bigotry tooth-and-nail.
Although White House Press Secretary Sarah Huckabee-Sanders said in Tuesday's press briefing that the details of the proposed ban on transgender people in the military would still have to be worked out with the Department of Defense, the DNC, along with the LGBTQ community and its allies, have a right to be outraged.
Trump has repeatedly targeted the transgender community with his policies and allegiances. The following are just a few of those instances.
The Transgender Military Ban
On Wednesday, Trump sent out two tweets announcing that, after consulting with "generals" and other military personnel, he was planning on banning transgender people from enlisting in the military, due to the "burden" of paying for their health care (a claim that has since been debunked) and in the name of minimizing "disruptions" within units.
There are currently over 15,000 active duty transgender people in the military, but as mentioned, during a press briefing on Wednesday, Sanders said that the Department of Defense would have to figure out what would happen to those already overseas or currently enlisted. The Pentagon referred all questions about the transgender military ban to the White House. Not only is the ban based on nothing but an opinion, it's also confusing. Without a solid plan, the lives and the futures of transgender people in the military and their families are up in the air.
His Proposed Health Care Plans
Right now, the Senate is debating and writing a health care plan that would repeal and replace the Affordable Care Act. Under any proposed Republican health care bill, transgender people would suffer in a number of ways. The first is that the American Health Care Act (passed by the House of Representatives earlier this year) and its subsequent iterations would rollback funding for Medicaid, which lower income people and families depend on for health care.
Although the AHCA is not being voted on in the Senate, a GOP-written Senate bill would likely still significantly cut Medicaid funding. According to studies done by the Movement Advancement Project (MAP), the Center for American Progress, the National Center for Transgender Equality (NCTE), and the Transgender Law Center, transgender individuals disproportionately live in poverty. Which means that transgender people would be less likely to afford health care.
In addition to being able to afford health care in the first place, almost half of transgender people report considering suicide or harming themselves in some way, according to a study by the Cincinnati Children's Hospital Medical Center in 2016. With the repeal of the ACA, transgender people, along with most of Americans, would be priced out of accessing the care they need.
Trump's Rollback Of Transgender Youth Protections
Just a month after his inauguration, Trump rolled back Obama-era protections for transgender students in schools, which means that transgender youth are no longer able to use the bathroom that aligns with their gender identity. Again, this was a confusing move from the administration, especially since Education Secretary Betsy DeVos had previously promised to protect LGBTQ students' rights.
The rollback of these protections for transgender students not only puts them in danger every time they have to use the bathroom, it also led the Supreme Court to put the landmark case of Gavin Grimm, who was suing his school district for not allowing him to use a bathroom that corresponded with his gender, on hold.
Although Grimm and advocates of transgender rights have vowed to continue fighting for the right to use a safe bathroom — his case will be heard by a lower court this fall — Trump's rollback of the protections was a huge blow.
Trump Backs Voter ID Laws
Trump garnered some support throughout the 2016 election by advocating for voter ID laws to prevent fraud. He told Fox News last year, "You don't have to have voter ID to now go in and vote, and it's a little bit scary, and I've heard a lot of bad things. I mean, people are going to walk in, they are going to vote 10 times maybe."
Voter ID laws are controversial, namely because they seem to target minorities who have trouble obtaining the IDs themselves. But what is often left out of the conversation is that transgender people also have a ridiculously difficult time getting identification that matches their actual identity.
Obtaining ID for a transgender person is difficult and the process varies state to state. Some states require that a person must have gender reassignment surgery before being able to change their gender on an ID, despite the fact that not every transgender person wants a surgery or can even afford it, due to lack of health care coverage.
If people are forced to have IDs to vote, an estimated 34,000 transgender people would be barred from voting, thus rendering their voices silent, and allowing policies that directly affect them to be implemented without any input from the community itself.
Trump Supports Anti-LGBTQ Adoption Laws
In both Texas and Georgia, Trump is allied with lawmakers who want to pass legislation that would ban LGBTQ people from adopting children, and that includes transgender people. These laws would allow adoption agencies to deny people the right to adopt based on their religious beliefs.
So, for example, an agency that doesn't believe same sex couples should be allowed to marry could deny an adoption to that couple. Similarly, if, like Vice President Mike Pence, the religious agency believes that a transgender person is merely a "social experiment," it could deny them a child.
In so many ways, both directly and indirectly, the Trump administration has targeted transgender people. Hopefully, with enough resistance, the president will either rethink his strategy, or at least remember what he promised to the LGBTQ community during the election.