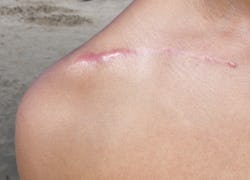 6 Fascinating Things It Says About Your Health If You Scar Easily
Mirror-images/Fotolia
Chances are pretty good that you've gotten a scar at least once in your life. Whether it was an accident as a kid — learning to ride your bike, running around the neighborhood, roller skating — or an incident that happened when you got older, sometimes cuts, scrapes, burns, surgeries, and more can cause your skin to scar. In fact, it actually says some fascinating things about your health if you scar easily that you might want to know more about, particularly if you're accident-prone.
There are a number of reasons that can impact why you might experience some scarring from time to time, but why do some people scar more than others?
"Scarring easily has more to do with your genetics than with your health," Dr. Suzanne Friedler, board-certified dermatologist with Advanced Dermatology PC and Clinical Instructor of Dermatology, Mt Sinai Medical Center, tells Romper.
"Some people scar easily & others don't," Dr. Friedler continues.
"It's not a reflection of your health. The same person can scar differently in different body locations. Chests tend to heal poorly. The cartilage high up on the ear may scar worse than the fleshy ear lobe. Also people with darker complexions tend to scar worse than people with fair skin. The best indicator may be looking at how close family members scar."
Scars can appear even with injuries that you don't think are severe enough to result in one, which goes to show that it can be difficult to predict when a scar will occur and when your injury will heal without any issue. If you do scar relatively easily or have noticed a change in how often you're scarring, knowing what it might be subtly telling you may be worth knowing.