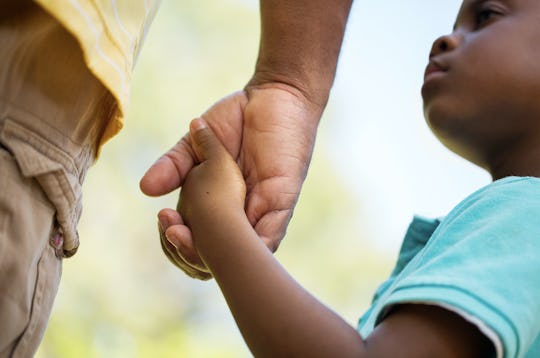 digitalskillet1/Fotolia
7 Dads Share Why They'd Rather Have A Sensitive Son Than A "Strong" Son
When I learned I was having a son, I was worried. The potential for violence, misogyny, sexism, and toxic masculinity bombarded my brain. I knew boys are taught to be strong, tough, and stoic, and I knew we had to raise our son differently. My husband is a realist — acknowledging that we can't shelter him completely — but we both knew we could try to raise him to respect others, express emotion, and be sensitive. In my conversations with other fathers, I've learned that, in many ways, dads would rather have a sensitive son than a stereotypical "tough boy," and for so many important, powerful reasons.
Many of the dads I've talked with know firsthand how important it is to teach their sons that gender roles aren't as important as being who they truly, authentically are. At the same time, they recognize that our sons pick up conflicting, and often problematic, messages from just about everywhere. Unfortunately, so many of those messages involve acting tough, suppressing emotion, and not sharing how you feel, especially if you don't fit a problematic stereotype about how boys "should" be. Worse, other boys (and even grown men) use names like girl, woman, and p*ssy to insult sensitive boys, implying that being a girl means you're weak, when girls are actually strong as hell.
I have to say that it gives me hope that so many of the dads I talked with care more about who their sons are, than about sexist stereotypes that attempt to dictate who they should be. If more dads teach their sons that being sensitive is a strength, and not a weakness, maybe we can raise our next generation to re-define masculinity in a totally new way. One can only hope.