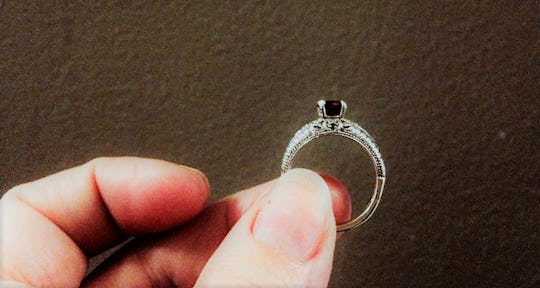 Courtesy of Steph Montgomery
7 Formerly Single Moms Share The Unique Ways Their Current Husbands Proposed
I have a confession to make: I'm a hopeless romantic. I adore romantic comedies, I write poetry, and I read romance novels. So when I got engaged I waited for a flash mob, 1,000 yellow daises, and an expensive glass or two of champagne. Instead, my boyfriend at the time gave me a nudge and asked, "We should get married, right?" As you can imagine, our marriage wasn't a fairy tale and ended years later. So it wasn't until I was a single mom that I finally received the unique marriage proposal I've always wanted.
My current husband and I were both single parents when we met, so we spent most of our evenings watching Netflix or snuggling on the couch. So when we had a rare night out to see Star Wars: The Force Awakens I was beside myself with excitement. I am huge Star Wars fan, too, so as the opening credits rolled I could barely sit still. And that's when I looked down and saw a ring box is my then-boyfriend's hand. To me, that was by far the most romantic gesture in the world.
We told our kids the next day and they thought my then-fiancé's Star Wars proposal was pretty cool, too. And while it wasn't the proposal I had imagined as a little girl, it was easily the sweetest, most unique, most thoughtful proposal I could have imagined. It was us, and that's all I wanted.
At some point, as adults, we learn that romance rarely looks like a fairy tale. We realize that marriage isn't always like a romance novel or a rom-com with a silly or sappy, feel-good ending. We also know that it doesn't have to be, and we eventually realize that having the freedom to decide how you and your spouse begin your lives together is by far more superior than following some often unrealistic standard. Blending your life with someone else is hard, and when you are a single parent it's even harder. But it's also incredible, and the following stories of finding love as a single mom, and the marriage proposals that followed, prove that love is what we make it.