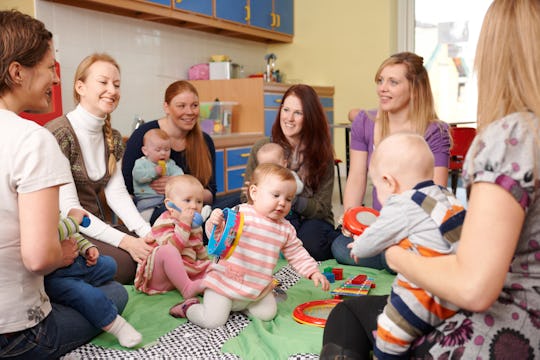 highwaystarz/Fotolia
7 New Year's Resolutions To Make If You Want To Be A Better Friend To Other Moms
Ask any mom and she'll tell you the same — friendships get trickier once little ones come into the picture. A natural shift in the dynamics of your relationship occurs, and it can take a hot minute to wrap your head around. If you feel like you've lost a bit of your mom-friend luster lately, perhaps it's time to consider some New Year's Resolutions to make if you want to be a better friend to other moms. I mean, can you imagine what motherhood would be like without the support of the other moms in your life? I think we can all agree we all need those special people in our world who understand the delicate (slash messy and complicated AF) art of raising tiny humans.
Before the women in my inner circle started growing their families, we lived in a cozy cocoon of social indulgence — we would hang out for hours on end, drop by each other's houses without calling, treat each other to mani-pedis, and basically spend every spare hour together. It's not that we don't do any of those things anymore, but time is a precious and practically extinct commodity these days. I'll be the first to admit that once my kids came along, I became so wrapped up in them that their squishy little faces eclipsed anything going on in my friends' lives.
Last week, as I was sorting through a pile of mail that had been tossed haphazardly onto my dining room table one afternoon, I found something that saddened me: an invitation to the second birthday party of one of my dearest friend's daughter. I vaguely remember seeing it when it first came in the mail, but at the time my son was probably chasing the dog or giving himself homemade henna face tattoos with magic markers. And I forgot. I didn't even call to let her know I wasn't coming. At that moment, I knew I needed to shape up in the mom-friend department pronto.
If any of this sounds familiar, well, obviously you aren't alone. Striking that ideal balance between being a mom and fostering your mom friendships is a struggle most women can relate to. The following New Year's resolutions are a good start for getting back on track with your mom friends in 2017.