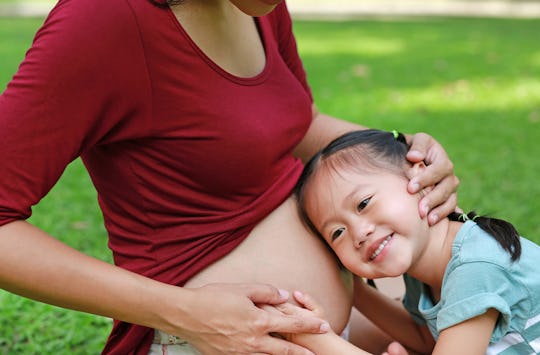 zilvergolf/Fotolia
7 Of The Cruelest Things You Can Do To A Pregnant Woman Caring For A Toddler
When I was pregnant and simultaneously raising my 4-year-old daughter, I was convinced people had it out for me. As if swallowing horrific heartburn and making 50 trips to the bathroom — minimum — wasn't enough, I usually had to deal with some bonehead making an unnecessary comment about my body, my pregnancy, or my growing family. And even though my kids are 6 and 11 now, I remember that time like it was yesterday. Of the all the cruel, cruel things you can do to a pregnant woman caring for a toddler, not being aware of your jackass-ness hits the top of the list. So, please, take notes.
To be fair, my toddler daughter was generally agreeable and a decent sleeper by the time I was pregnant with her little brother, so I'm sure I could have had it worse. That being said, she's a rebel through and through. Saying my girl is "defiant" is a gross understatement, and since she was a small child she's always been able to manipulate those around her. My partner and I knew, early on, that we'd need to stay on our toes if we had any chance of keeping up with her.
So when she was told her brother was on the way, her innate insubordinate nature peeked. I tried to keep her daily routine as normal as possible, but I was exhausted by all that extra weight and morning sickness and, you know, the "fun" parts of being pregnant. Did I need people to remind me that I was pregnant and, as a result, the pregnancy was slowing me down? No. The answer is: no, I absolutely did not. I didn't need people to any of the following downright cruel things, either.