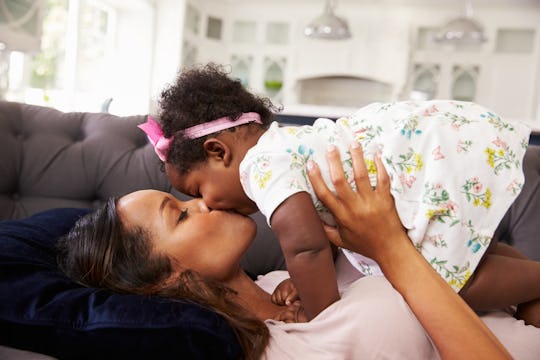 Fotolia
7 Reasons Why I Kiss My Kid On The Lips & Refuse To Apologize For It
Haters gonna hate on all kinds of things. Breastfeeding. Extended breastfeeding. Letting a child share a bed with you. Some people, unfortunately, even have beef with parents who kiss their kids on the lips. The most recent celebrity to get flack for a lip kiss with her kid was Hilary Duff, with critics calling the kiss "inappropriate" and "unhealthy." To these people I say, "Stop the mom shaming (and also get a life)." I love kissing my toddler on the lips, so there are more than a few reasons why I will continue to kiss my kid on the lips and won't apologize for it.
Today I was in my kindergartener's classroom for a holiday party and I leaned in for a kiss goodbye. He usually kisses me on the lips. Now, these kisses are not the same as the kisses I share with my toddler: wet, slobbery, and would be gross if they weren't absolutely freakin' adorable. Just a perfunctory peck on the lips, but still, very cute and sweet. However, when I leaned in for my goodbye kiss, he kind of froze and gave me this look like, "Mom. Not in front of my friends!" So I made myself upright and gave him a little wave instead. He waved back, and then darted off.
Guess we are at the beginning of the end, dear reader. Luckily, my 2-year-old son still loves — no, requires — kisses on the lips from his mom. So I'm going to milk it for as long as I can, and I'm definitely not sorry about that.