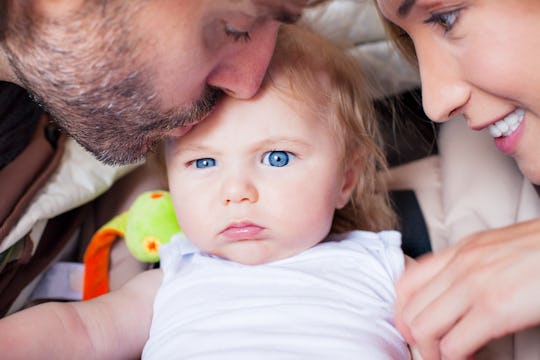 7 Sexist Questions I've Actually Had To Answer About My Husband's Parenting
People make all kinds of assumptions about moms. From our marital status, to how we conceived, to how we gave birth, strangers are quick to jump to conclusions. Some of the less intrusive, but still-kind-of-annoying, assumptions I've experienced are the comments people make about how I care for my kids. When it comes to parenting my children, people seem to think my kids' dad is either incapable or absent. So, honestly, I'm tired of the sexist questions I've had to answer about my husband's parenting, especially from assuming strangers who still think mothers are the only parents capable of oh, I don't know, dressing their children.
When my partner and I talked about having kids, we talked about how I would be in charge of a lot of the day-to-day household stuff and managing the kids' schedules, because my work schedule is more flexible than his. But that did not preclude him from being an active and engaged co-parent. My partner has always been the family cook, the first one to wake up in the morning, the guy who does the early morning dog walks, and has always been better with babies than I was. So I had a good sense of how life might be once we had kids. Since we became parents together he's been a fantastic co-parent in all of the ways I had hoped.
But strangers don't know this. Strangers see a tired mom pushing a stroller during the day with two cranky kids, or a mom who is pleading with her 5-year-old to hold the door open so she can push the giant stroller through the narrow doorway to the coffee shop to escape a downpour. They don't see the dad, so they assume a lot about me in those moments. Yes, I'm working my ass off when I'm with my kids, but their dad puts in his work too. And we both cherish our alone time with them and carve out moments to just enjoy our kids' company. Which is why I find it a huge drag to have to explain, again and again, how my kids' dad is the one who is on top of this or that, especially when I'm asked the following questions: