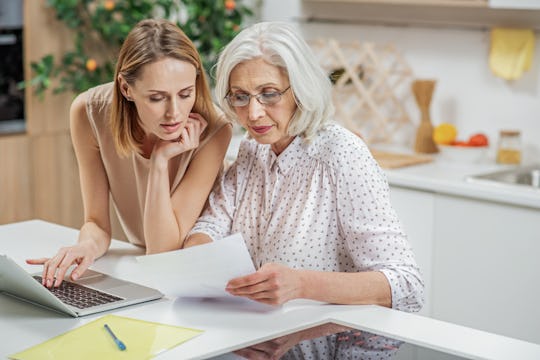 YakobchukOlena/Fotolia
Here's How To Tell If Your Mother-In-Law's Behavior Is Really Controlling
More often that not, marrying your love includes the theme of unification. But it should be noted that includes them and their family. And if your mother-in-law (MIL) relationship is less-than-amicable, then it's worthwhile to know the signs your MIL is controlling. Nobody wants to assume their MIL is controlling if her behavior is just different than what you're used to, but it's better to be in the know than completely oblivious to behavior that is undoubtedly toxic.
If you do realize that your MIL is trying to control you, your life, or your relationship, you need to put a plan in place. "The only thing you can do with this kind of behavior is to cut it off at the root," Cynthia Chauvin, a certified hypnotherapist and intuitive counselor, tells Romper in an email interview. "Your spouse needs to inform his or her mother this behavior is unacceptable. If you don't put your foot down (and this can be difficult at times), it will grow like a bad weed."
Dealing with a pushy MIL can be a challenge, but you might be comforted to know that you're not alone: In her book What Do You Want from Me?: Learning to Get Along with In-Laws, Cambridge University psychologist Terri Apter revealed that "over 60% of women — versus just 15 percent of men — report having a negative relationship with their significant other's mom," according to Psychology Today. Among the words used by daughters-in-law to describe their relationships with their MILs: "uncomfortable," "strained," "infuriating," "depressing," and "simply awful." The number one source of tension between women and their in-laws was listed as "pressure to have children," while other common causes of conflict included "a parent's belief that no one is good enough for their son or daughter," "money lending," "pressure to conform to religious or cultural norms" and even "a parent trying to drive a wedge into a marital relationship." Unsurprisingly, these tensions often manage to do just that, with couples dreading family gatherings and resentments eventually building. That's why, as Yvonne K. Fulbright Ph.D. wrote in Psychology Today, "when a spouse has a problem with a parent-in-law, it is the couple's problem, too."
"There is no dealing with the situation solo," Fulbright explained. "Whether or not they agree on all aspects of the situation, couples need to become a united front. This begins by having effective conversations about difficult, sensitive issues."
By addressing this kind of behavior now, you might find yourself in a better relationship with your MIL down the road. And that can be a wonderful thing.