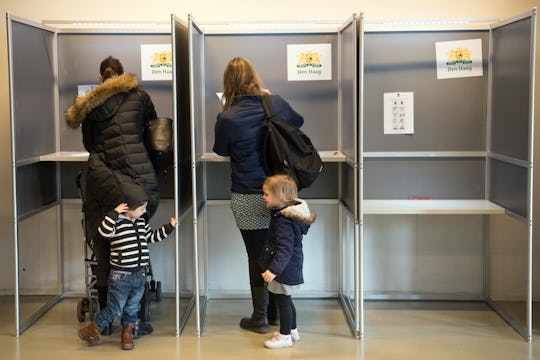 Carl Court/Getty Images News/Getty Images
7 Things I Want Moms Who Voted For Trump To Know 
You and I aren't that different. In fact, we want similar things. We want our kids to be happy and successful. We want our children to grow up in a safe world where they're not bullied and they feel comfortable and confident. We want our kids to be good people and to be surrounded by good people. We want our kids to get a rigorous education, for their opportunities to be plentiful, and for their opinions to matter. Thus, there are things I want moms who voted for Trump to know.
In terms of role models, President Trump is not it. He has not shown any of the characteristics I want my kids to have. He didn't work hard for what he has, as his career began with a nice chunk of money given to him by his father. He didn't climb any ladders and is actually responsible for multiple failed business. He built his empire on the backs of underpaid, and sometimes unpaid, immigrants, by reportedly cutting corners, and by cheating those who work for and with him. The aforementioned are not reported theories, as he wrote about most of this in his book. He is proud.
He speaks poorly about women and minorities, he belittles people with disabilities, and his "unique speaking style" seems to babble without even an ounce of a coherent thought. As far as role models are concerned, at least to me, he isn't one.
For me, the most important job I can do as a mother is to raise self-reliant, independent, confident, kind, and decent human beings. I want my daughter to be strong and my son to be respectful. I want to live in a world where my children aren't denied opportunities for any reason outside of achievement and qualification. I want my daughter to be treated as an equal and I want my son to treat women with decency and thoughtfulness. I'm sure you want the same for your children, which is why I would like you to know the following: