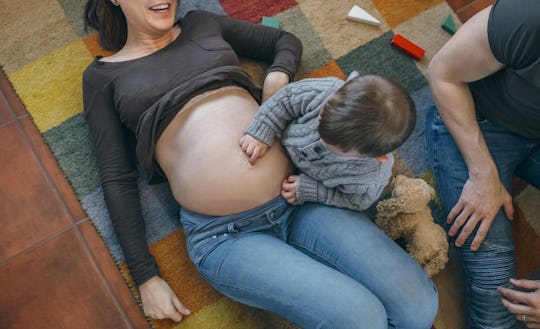 David Pereiras/Fotolia
7 Things To Do With Your Kid Before Their Sibling Is Born
My kids are five years apart, so when I found out I was pregnant with my second my daughter was old enough to understand what that meant. She wasn't mature enough, though, to really understand how her life was about to change. She would go from being an only child, to sharing the spotlight — something most people aren't thrilled about. So I made sure to prepare her for the arrival of her baby brother by doing all of the things you should do with your kid before their sibling is born.
Full disclosure: my daughter isn't into babies. I guess she takes after me in that respect, because babies are just not my thing, either. Well, unless they are my own, of course. Still, after my son was born my daughter seemed so prepared. In fact, she helped with everything. She brought me diapers when I was too tired to move and put my pump parts in the sink when I couldn't fathom standing up. She sat by me when I nursed and gently stroked her brother's newborn little head. She became a great big sister even though, like I said, she "wasn't into babies."
Getting a sibling is a major adjustment for a kid, especially a slightly older kid who is used to being the center of attention. So preparation is key. There are no sure ways to prepare your child for when his or her world gets turned slightly upside down, but that doesn't mean you shouldn't at least try. And no matter how you choose to prepare your kid, know that siblings have an amazing bond and even if they start off a little shaky, they will grow to love and appreciate one another more than anything else.