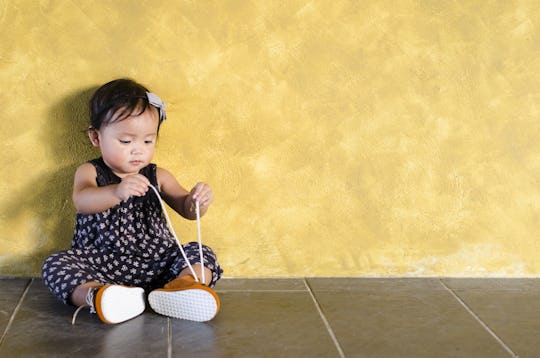 Hafiez Razali/Shutterstock
7 Things Your Toddler Really Means When They Say "I Can Do It By Myself"
I have a confession to make: I'm a control freak. I didn't used to be this way. In fact, pre-kid me was wild and carefree and totally laid back and able to go with the flow. But mom me? Oh, mom me is completely incapable of stepping back and letting things just happen. I want the best for my babies and, more often than not, that means doing things for them. But toddlers can do things by themselves, you guys! They don't need their parents to complete every little task! Who knew, right?!
My first "baby" isn't really a baby anymore, he's 4. And, at 4, my son is wildly independent and wants to do all the things all by himself, without any help from mom. Yes, I am already "not cool enough" to help my child. And that's hard for me, you guys! Sometimes it's incredibly difficult to back up and watch my son do something by himself, especially when he's struggling or getting frustrated.
But letting go and letting my son do things for himself is how he learns, and man is this kid learning. It's incredible to watch this tiny human — a human I grew inside my body and pushed into the world — become independent and capable of doing things without any assistance; incredible in a way that's as awe-inspiring as it is a little sad. But that's part of this whole parenting thing, right? And in the end, it's our ultimate goal: to raise humans who can take care of themselves. So, yes, I am learning to back the you-know-what up and let my kid do things on his own, and in the process have learned that when my son says he's got it, he really means the following things: