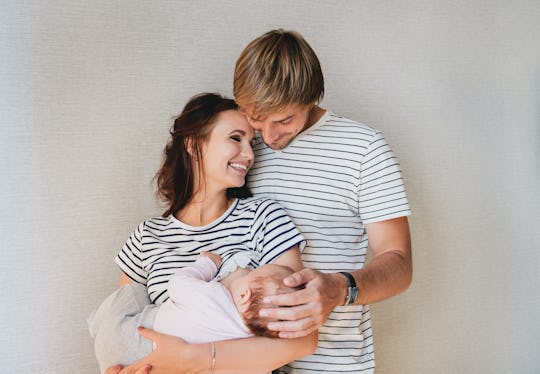 Romanova Anna/Fotolia
8 Creepy Things People *Actually* Said To My Husband When I Was Breastfeeding
There's something about seeing someone feed a baby that causes people to lose their sense of what's appropriate or polite to say. In my experience, people can say some seriously rude and creepy things to moms when they're breastfeeding. It's so annoying. But, if there's anything worse than saying creepy things to a breastfeeding mom, it's saying those things to their male partner instead. You would not believe the things people actually said to my husband when I was breastfeeding.
For one, saying anything at all about my choice to breastfeed, where I am breastfeeding, or how my body looks or works is creepy. Full stop. And not only does it give me the shivers, but the entire discussion is served with a side of misogyny when someone decides to talk to the man standing next to me, instead of me, about it. Not only is it inappropriate to make an assumption about our perceived relationship, but I am a human, dammit. If you have something to say about me, you can address me directly. Besides, if you don't feel comfortable saying something to me, chances are it's better left unsaid.
For the record, my husband doesn't have a say about what I do with my body, including breastfeeding. Why do people think they should say anything to him about it? Or worse, imply that he can or should try to control me and my breastfeeding boobs? No one should say anything to a mom who is trying to feed her damn baby, and they definitely shouldn't say creepy things to her husband. But, in my experience, they totally and absolutely do. Ugh.