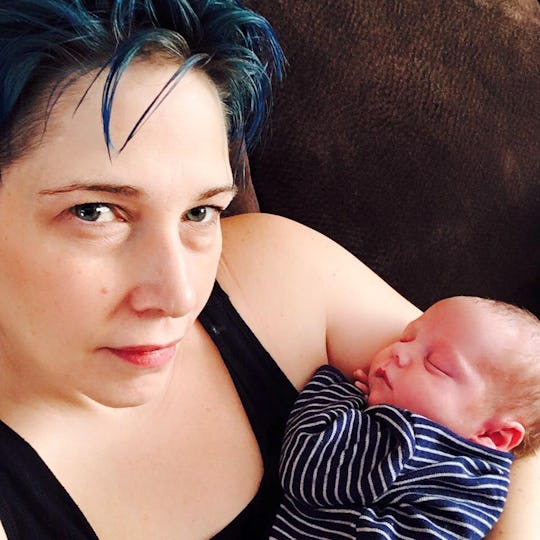 Courtesy of Steph Montgomery
8 Parenting Things You Don't Realize You're Doing Because You Have Postpartum Depression
When I was first diagnosed with postpartum depression (PPD), I honestly didn't believe it. You see, I didn't really feel sad. Most of the time I just felt tired, anxious, and angry. Worse, I thought feeling that way meant I was a bad mom. From the inside of my head things seemed "normal," but I learned there are actually things you don't realize you are doing because you have PPD.
All new moms obsessively count their newborn's wet and poop-filled diapers, and set an alarm to make sure their baby never goes longer than three hours without eating, right? Wrong. Guys, I had a spreadsheet. Sure, I was tired all of the time, but what new mom isn't, right? And when I tried to sleep, I couldn't. I mean, I thought it was totally normal to stare at my sleeping newborn, or want to hold him through his naps and through the night. When I did lay him down, I would stare at the monitor waiting for him to make a sound, so I could rush in and pick him up as soon as he woke.
I continued an impossible routine of breastfeeding, pumping, and supplementing, even though I freaking hated it. I became so irritable and had such a short fuse that I lost my temper about little things — like my husband coming home a few minutes late — or, honestly, nothing at all. I thought that yelling at him or feeling angry with my baby was just me being "hormonal."
It wasn't until I went to my six week postpartum visit that my midwife put all of the aforementioned together and diagnosed me with postpartum depression. I wish I would have called her sooner, because once I started treatment I started to feel like me again, and started parenting in a whole new way.