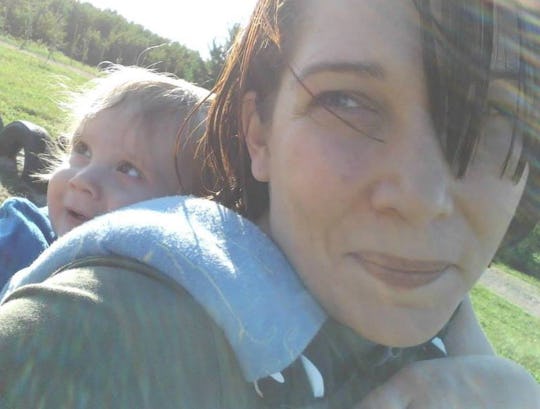 Courtesy of Steph Montgomery
8 Reasons Why I Won't Apologize For Babywearing My Toddler
I was at the grocery store with my kids the other day, and, well, you would've thought I'd grown horns by the looks people gave me. I glanced at my reflection in the freezer case. Nope, no horns... just a toddler in a baby carrier on my back. Of all the things to disapprove of, it just seems so weird. I mean, why on earth do people expect me to apologize for babywearing my toddler? It's none of their business, it makes my life easier, and, truly, this judgment simply makes no sense at all.
Someone even had the audacity to talk to my toddler about it. "Mommy should let you walk," they said. Really? How rude, to passive-aggressively talk to my child in front of me. Yes, my 15-month-old son can walk, but not through an entire grocery store without getting tired. And he's not old enough to understand basic instructions, especially in a busy, public place. So "letting him walk" pretty much just guarantees that I will have to chase him around the store. I am pretty sure that's a level of hell that Dante forgot when he wrote Inferno.
Babywearing my toddler is awesome. It leaves my arms free to tend to my other kids, grab groceries, and check out with ease. Even better, with him in the baby carrier on my back, I don't have to spend the entire time telling him to sit down, trying to tighten the seat belt enough so he can't turn around or stand up in the cart, or having to carry him around the store in my tired arms. It makes my life as a mom so much easier.
I have five kids, but only two hands, two eyes, and the ability to run so fast. So, I'll do whatever I need to do to keep my kids safe, and make it through the store, the park, the zoo, the museum, or wherever we happen to be, relatively unscathed. For our family, that means babywearing my toddler. I don't care if you judge me, shame me, or give me side-eye, because I am definitely not apologizing.