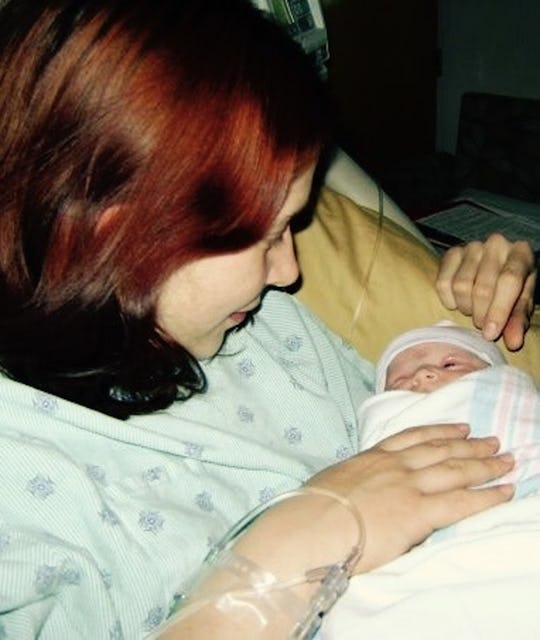 Courtesy of Steph Montgomery
8 Subtle Breastfeeding Red Flags I Never Should Have Ignored
I always intended on exclusively breastfeeding my babies. After all, "breast is best," or so everyone from my mother to my midwife said. Unfortunately, and despite planning, reading books, taking breastfeeding classes, and joining groups on social media, my body didn't get the memo. It turned out that no amount of preparation and good intentions can change the fact that breastfeeding is hard, and because I believed that breastfeeding would come naturally, there were so many breastfeeding red flags I never should have ignored. I did, though, and in the process unintentionally put me and my baby at risk.
All the nurses at the hospital told me my daughter's latch was perfect. It was so reassuring and gave me a ton of confidence. She would fall asleep at my breast every time I tried to feed her, though, and I had to wake her to eat every two to three hours because she was so sleepy. I had always been taught never to wake a sleeping baby, so I thought it was a good thing. I had no idea it was a red flag.
Our first night home from the hospital she pretty much breastfed the entire night. That is, when she wasn't being held, rocked, or crying inconsolably. It was hell. Then, as soon as she latched, she'd fall asleep, which made me worry that she wasn't getting enough milk. After another night of no sleep, I took her to see the hospital lactation consultant. She weighed my daughter before and after feeding. She'd lost 20 percent of her birth weight and had only eaten a few milliliters of breast milk in 30 minutes of breastfeeding. It was so hard to see the subtle changes in my tiny baby, so it never occurred to me that I wasn't making enough breast milk.
I was finally able to see the signs and get both of us the help we needed. It took a neonatal intensive care unit (NICU) stay for jaundice and dehydration for me to wake up and pay attention to breastfeeding red flags. I will never forgive myself for that, but talking about the following signs helps. Don't make the same mistakes I did. And above all, trust yourself.