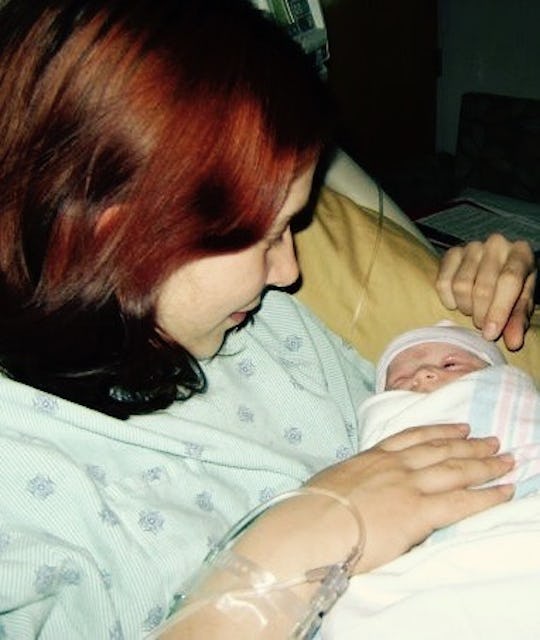 Courtesy of Steph Montgomery
11 Ways Second Night Syndrome Tries To Break All New Breastfeeding Moms
New parenthood tries to break parents in so many ways. I'd like to think it's evolution at work. After all, if you can get through the first few weeks with a newborn, you can probably get through just about anything (at least until potty training). For me, the hardest part about postpartum life were the moments when it felt like my baby was breaking and I had no freaking clue how to fix her. For breastfeeding parents, this moment usually happens on night two, because second night syndrome tries to break you. Seriously.
No one told me about second night syndrome — also known as the longest night of your life — when all your baby wants to do is nurse, cry, and be held, all night long. Not only did no one warn me, but since my daughter's first 24 hours were so calm by comparison, it totally freaked me the hell out. So I rocked her, nursed her, and nursed her some more. I started wondered if she would ever sleep. Then, she fell sleep against my chest, and I tried to lay her down in her crib, like Indiana Jones gently placing an artifact back in place to avoid a giant rock crushing him. Yeah, her eyes popped back open.
I thought I would go insane, so I woke my husband up to help, and we ended up having a huge fight about the fact that I had the baby in bed. However, I was so tired and had no idea what else to do. He tried walking around the room with her and swaddling her tight, just like the nurses showed us at the hospital, but alas, he didn't have boobs, so she didn't want him. The next day my mom went out and got us a co-sleeper that attached to the bed. Best gift ever.
I have no idea how I got through our baby's second night, because it totally tried to break me in ways I couldn't have possibly prepared for.