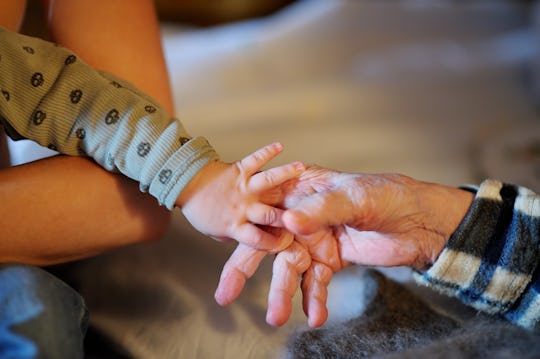 Maria Sbytova/Fotolia
8 Terrifying Thoughts I Had When I Introduced My Baby To My In-Laws
A relationship with your in-laws can be tricky to navigate, even if the people who raised your partner are objectively the best. There will always be a history they have with your partner that you weren't privy to, and you will always be the new addition to the group dynamic. So adding a grandchild into the mix can make any otherwise sane daughter-in-law a little, well, nervous. I'm no stranger to those feelings, and I had at least a dozen terrifying thoughts when I introduced my baby to my in-laws.
Thankfully, nearly all my concerns were unwarranted and were a reflection of just how much pressure I was putting on myself as a new mom. My concerns were also a reflection of how difficult relationships can be with in-laws, even if yours happen to be pretty nice and time spent with your in-laws is, for the most part, smooth sailing. Big life changes can bring out insecurities in even the most stable of family relationship,s and sometimes you just have to dive in and hope for the best.
In my case, my in-laws met my daughter in phases. My mother-in-law met her when she was just a few weeks old, but my father-in-law didn't meet her until she was nearly 9-months-old, because he lives overseas. I might have been more nervous about that later meeting, only because I wanted my daughter's reaction to be special which, of course, is a lot to ask of a baby. Needless to say, two years later, I'm glad I didn't waste too much time worrying about my in-laws' reactions to their new granddaughter. We all lived to tell the tale, and my daughter has grandparents that simply adore her.