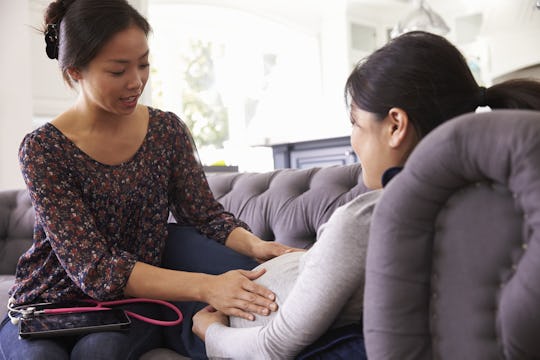 Fotolia
8 Things People Say To Moms Who Chose Midwives, That Moms Never Want To Hear Again
I always joke about being a "crunchy hippie," because I've proudly done all the things that most people consider "crunch" moms to do. I've yet to really understand why the term is a thing, because my choices, as a parent, are pretty "normal." I've realized that my choice in wanting a midwife, instead of an OB/GYN, is what most people find "crunch" about me. Sadly, that's just one of the things people say to moms who chose midwives that, sometimes, make me want to scream.
I consider myself lucky to have a high number of friends who also chose midwives, and a family who doesn't judge me for my choices. However, for people who didn't know me as well, the questions I had to field ranged from annoying to downright obnoxious. I guess that's to be expected, given that most of our generation was born with the help of doctors, rather than midwives. People who don't have personal experience with midwives can't imagine that they'd be as safe or as capable enough to help deliver your baby, as a doctor is or would be.
I wouldn't make any other choice, though. Even my friends who experienced a home birth with complications, and ended up in the hospital, are still happy they chose their midwives. That's because, in many instances although definitely not always, midwives are so often far more involved in the birthing process than OB/GYNs are. They're also extremely committed to the health of the mother before, during, and after the delivery. So, please don't judge me when I tell you I chose a midwife. Instead, do some research on how amazing midwives actually are, then please stop saying the following things to moms who chose to birth a midwife. We'd really appreciate it.