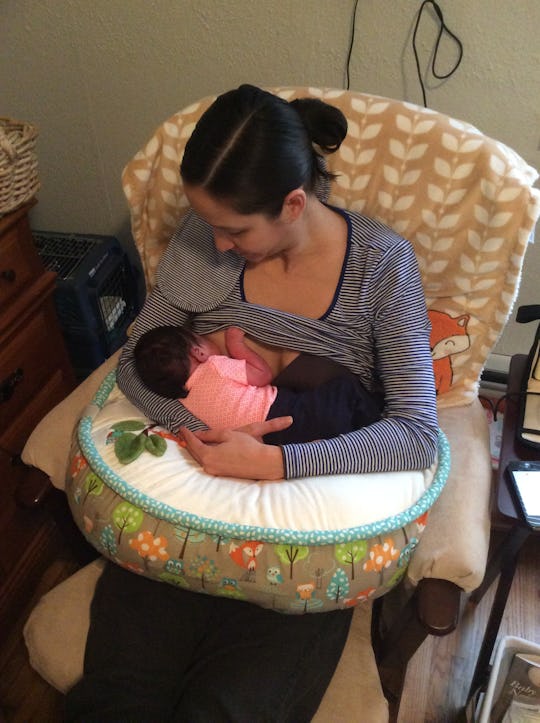 Courtesy of Kimmie FInk
8 Things That Matter More Than Your Partner's Thoughts On Nursing
New motherhood can be one of the most trying times in a woman's life. It's wonderful, but there's all kinds of stuff you have to figure out, like diapering, sleeping, and feeding. In addition to the stigma around both breastfeeding and formula feeding, many moms also have to deal with unsupportive partners. So mamas, I'm here to tell you that there are actually quite a few things that matter more than what your partner thinks about breastfeeding. That's not to say that their thoughts and your relationship should be taken out of the equation entirely, but, at the end of the day, you get to make the call.
When we decided to start trying for a baby, I had my husband join me at my monthly psychiatry appointment. I've had major depressive disorder for most of my adult life, and I have very successfully used a selective serotonin reuptake inhibitor (SSRI) to manage it. My spouse had concerns about its effects on our future children. Under the advice of my psychiatrist, we decided that having a mentally stable mommy outweighed the small risk of the SSRI to the baby. However, my husband wanted me to consider not breastfeeding. Although the amount of the drug that the baby would be exposed to was much smaller than in utero, he saw breastfeeding as a choice. In his view, we couldn't avoid exposure to a fetus while I was pregnant, but we could avoid exposure to a baby once she was born.
I was absolutely adamant about wanting to exclusively breastfeed. In the end, my husband came around and agreed that the benefits of breastfeeding exceeded the minimal risk associated with the anti-depressant. I wanted my partner to have a say, and I considered his apprehensions, but at the end of the day, he recognized my right to make decisions about my own body. Even if he hadn't been supportive I would have prevailed, because certain things are just more important than a partner's opinion.