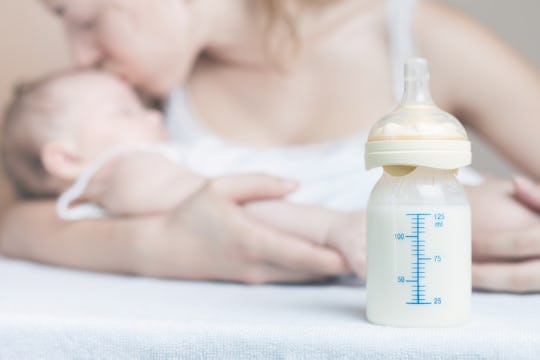 Fotolia
8 Things You Don't Have To Do When You're Weaning, Even Though Everyone Says You Do
Before I became a mother, I had a very specific picture of what motherhood looked like. In fact, that picture terrified me, as the list of things I thought I "had to do," was a long and intimidating one. It turns out, rarely is that list feasible, and I have realized that I need (and should) mold motherhood to fit my life, not the other way around. That definitely came in handy when breastfeeding started, and ended, and I realized that there are things you don't have to do when you're weaning, even though everyone says you do. Just like every other aspect of motherhood, what is expected of moms when they're weaning is usually unrealistic and unkind and not a benchmark any mother should hold herself to.
I was thankful for the ability to breastfeed, as it was an experience I was looking forward to sharing with my son. Benefits aside, I had a traumatic pregnancy and birth, that I was hoping breastfeeding could somehow, someway, nullify. It didn't exactly work that way, but breastfeeding did provide me (and my son) the comfort I was searching for. Sure, it was exhausting and it was draining (pun intended) and it was difficult at times, but I will never forget those late nights or early mornings, when I would feed my son with my eyes closed, holding him tight, smelling the top of his head and feeling at peace. I mean, that's the stuff right there, moms. That's the stuff.
That's also why, when my son self-weaned at seven months, I was sad. While I was looking forward to, finally, having full body autonomy, I knew I would miss the breastfeeding moments I was able to have with my son. I also knew that, according to many, I was ending my breastfeeding experience way too early. I found myself feeling obligated to hold myself to that unrealistic standard, and do things (or say things) during the weaning process that somehow excused the end of my personal breastfeeding journey. Yeah, I didn't have to do any of those things, and if I ever breastfeed for a second time, when it comes time for it to end, I won't be doing the following, again.