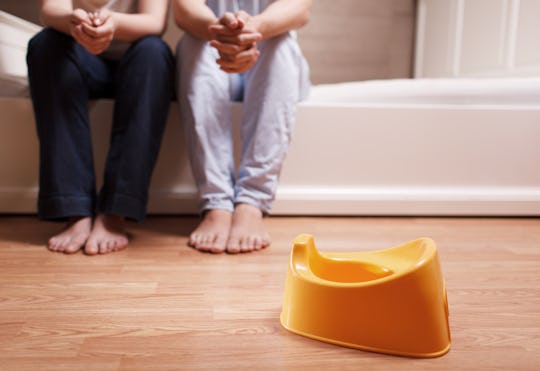 danr13/Fotolia
8 Ways I Set Myself Up For Disappointment During Potty Training
When I asked my own mom about potty training, she gave me a ton of advice. She potty trained me when I was about 18-months-old and, according to her, it wasn't a big deal. So when my daughter reached that age I decided to give potty training a shot. Let's just say that, for me, potty training was a very big deal. In fact, it ended up being one of the worst parts of parenthood. I think it was my fault, though, because I set myself up for disappointment during potty training in multiple ways, and from the very beginning.
I actually thought I was low-key and easy-going about it. I put a potty in the bathroom, told my toddler what it was for, and simply hoped she'd use it. At first, it went pretty well. When she followed me into the bathroom I would encourage her to sit down on her potty chair, and would cheer and do a special potty song and dance routine if she managed to put even a drop of pee in her potty. The novelty of the experience wore off, though, and before I knew it she absolutely refused to go. The minute I put her in a diaper, though, she would pee or poop a whole day's worth.
Like most of my parenting experiences, potty training totally didn't go as planned. I eventually came to the conclusion that my mom either lied about potty training, remembered her experience incorrectly, or I was simply incapable of teaching another human being how to use a toilet. Either way, I definitely set myself up for disappointment in the following ways, and learned a few pee-soaked lessons in the process.