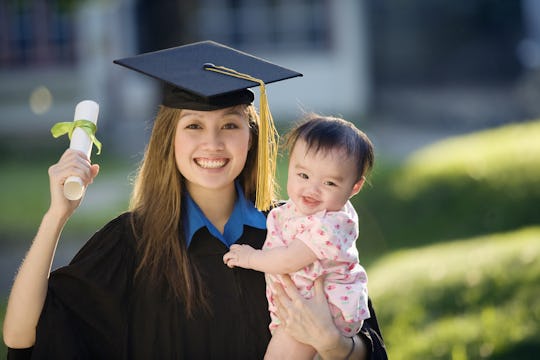 edbockstock/Fotolia
9 Advanced Degrees Every Mom Must Have If She Wants To Survive Parenthood
Some may argue parenting is nothing more than a little bit of intelligence coupled with a steady stream of common sense. Sure, that's a sound argument to be made, but I hail from a different camp. I truly believe there are a few advanced degrees every mom must have if she wants to survive parenting and consider herself an extraordinary parent. Furthermore, colleges should probably start offering parenting classes for those who plan on becoming a parent, because those would be super practical. Maybe a class in multitasking, or one in juggling work and a family, would be incredibly useful. Either way, parents need these degrees. For the baby shower, parents should start asking to be enrolled into college courses in various disciplines so they are fully prepared once the baby arrives.
Imagine grabbing parenting by the horns and really, truly being the greatest parents who ever lived. Having all of the answers to all of your children's questions and being able to whip up a gourmet meal in a matter of minutes? What if you could unlock every parenting mystery and understand every parenting conundrum? Well, in order to do that, my friends, you absolutely must attain advanced degrees. But I wouldn't stop at a Bachelor's either. Splurge on the PhD because, well, it's so worth it. You'll be the best parents on the block. Everyone will seek your advice and your expertise.
Most importantly, your children will respect all of the work you put in prior to having them. They will know their parents are extremely capable and will never have any kind of parenting fail or mishap. They'll never hear "I don't know," will always feel reassured, and never ever feel accidentally shamed because their silly, hardly-educated parents actually thought their laymen discipline techniques were decent. If you acquire all of the obviously necessary degrees below, you will not only survive parenting, you will crush it.