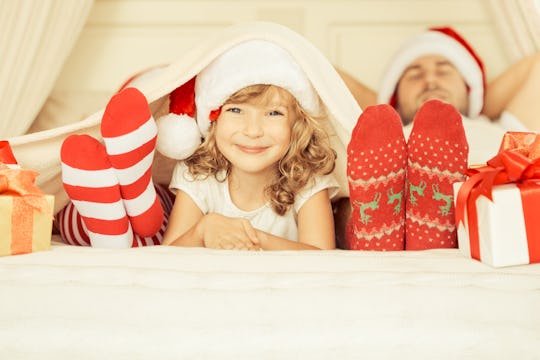 Fotolia
9 Emotionally Draining Stages Of Trying To Leave A Family Christmas Party
There is a fine art about the way you leave parties, and leaving on Christmas is no exception; especially when you have a kid. You don't want to offend the host by leaving too early, but you probably can't wait to be done with the loud voices, increasingly drunken laughter, and all around craziness that is the holidays. While the emotional stages of trying to leave a family Christmas party are no joke, the really great thing about having that kid with you though (besides, like, the whole having a kid thing) is that this little one is now the perfect get-out-of-Christmas-free card.
OK sure, you probably can't go as far as to totally bail on the family gathering all together, but you'd better believe that using nap time and fussiness as excuses to duck out early are definitely things. I mean, it's totally understandable that your kid would be exhausted by the time that (way-too-late) dinner rolls around at the in-law's house. In fact, by all accounts you're pretty damn tired, too. Chasing after a toddler and picking up 30 pounds of baby every other minute is like an endless cardio workout.
I say give yourself a break by exaggerating the exhaustion your kid is (probably already) feeling. It's Christmas and you've earned it, right? Plus, if you haven't mastered the art of leaving a holiday party early, you can always familiarize yourself with the following emotional stages. With a little practice you'll be back in the comfort of your own home (with your kid's favorite toys, so they'll leave you the hell alone for a few minutes) in no time.