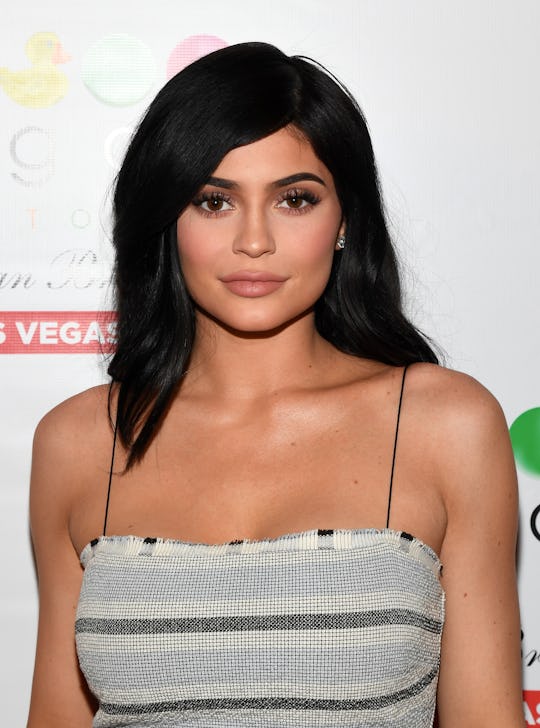 Ethan Miller/Getty Images Entertainment/Getty Images
9 Kylie Jenner Pregnancy Quotes That Show Motherhood Has Always Been Important To Her
After keeping her entire pregnancy under wraps, Kylie Jenner only revealed that she had been pregnant after her daughter was born last month. Still, she has said plenty of things about pregnancy since her Feb. 4 announcement. In the weeks following her daughter Stormi Webster's delivery, Jenner has opened up a lot about various aspects of her pregnancy. And based on things she said before she became pregnant (aka before she went into hiding for the better part of a year), it's clear that she has wanted to be a mother for a long time. Kylie Jenner's quotes about pregnancy show not only that pregnancy was a meaningful experience for her, but also that she is really going to cherish motherhood.
It's no surprise that Jenner had her sights set on motherhood for so long, considering how many siblings she has and how many children others in her family have had. Her mom, Kris Jenner, has six children; her biological father, Caitlyn Jenner, also has six children; Jenner's sister Kourtney has three kids; her sister Kim also has three kids, the third of which was born just weeks before Stormi was; her brother Rob has one daughter; and her sister Khloé is currently expecting her first child. Not only did Jenner grow up in an environment where having a large family was the norm, but she also had so many family members there to support her during her pregnancy.
Here are nine things Kylie Jenner has said about pregnancy.
1. She Absolutely Loved Being Pregnant
Jenner announced Stormi Webster's birth (as well as her own pregnancy) three days after she was born with a heartfelt post on Instagram. She told her followers:
Pregnancy has been the most beautiful, empowering, and life changing experience I've had in my entire life and I'm actually going to miss it.
2. Jenner Always Knew She Wanted To Be A Young Mom
In February 2016, Jenner appeared on Kocktails with Khloe where she discussed motherhood with Khloé and Kourtney Kardashian, as well as Snooki and RuPaul. (It's a random crew but I'm into it.) In reference to her sisters going through pregnancy and motherhood, Jenner told them:
I want kids for sure. And I feel like seeing you guys go through everything, it's great knowledge. And I feel like I want kids before I'm 30.
3. She Wasn't Afraid To Give Birth
In a recent Twitter Q&A, a fan asked Jenner if she was afraid to give birth. She replied:
I wasn't afraid! & you shouldn't be either. We were made for this 💪🏽
Jenner's tweet drew a variety of responses. Some moms agreed with Jenner, taking comfort in the knowledge that women's bodies can handle childbirth because they are designed to. However, others criticized her for seemingly implying that cis-women exist solely to have children.
4. She Once Said She'd Delete Instagram Once She Became A Mom
In a 2016 interview with Elle UK as transcribed by People, Jenner said:
Once I have a kid, I'm not going to be on Instagram. You know, I'll probably delete my Instagram and just … I don't know, live life.
This is clearly not a prophecy Jenner intends to keep.
5. She Is Happy She Chose A Private & Stress-Free Pregnancy
Also in her pregnancy announcement on Instagram, Jenner commented on why she kept her pregnancy a secret. She wrote:
My pregnancy was one I chose not to do in front of the world. I knew for myself I needed to prepare for this role of a lifetime in the most positive, stress free, and healthy way I knew how.
High stress during pregnancy can negatively impact the baby, so you can't blame Jenner for doing her best to limit stress while she was expecting.
6. She Had Some Interesting Pregnancy Cravings
Many women find themselves with weird cravings during pregnancy, and Kylie Jenner was no exception. The makeup mogul had an affair with a certain frozen food while she was carrying Stormi. When asked about her strangest pregnancy craving, she told her Twitter followers:
Eggos!!! I never liked them before I was pregnant & haven't had one since I had her. So strange! Lol
7. She Had No Complaints During Pregnancy — Except She Missed One Food
Jenner said there wasn't anything pervasively bad during her pregnancy — other than not being able to eat sushi. She told followers:
There really was no worst part! Probably not being able to eat sushi lol 😂 I had such a perfect experience.
8. Stormi Moved A Lot While She Was In The Womb
During her Twitter Q&A, Jenner addressed a fan who asked her if Stormi was an active baby. She wrote:
She moved a lot 😊
9. She Wants To Have More Children — Especially More Girls
In a 2015 interview with Teen Vogue, Jenner revealed that she wants to be a mother to "a million girls" one day. As per E! News, Jenner told the magazine:
When I look to the far future and decide to have kids, I need to have a million girls. Ten years from now—in 2025—I hope I have a kid.
Looks like Jenner got a head start on her plan — so don't be surprised if she makes a sister for Stormi sometime soon!
Check out Romper's new video series, Bearing The Motherload, where disagreeing parents from different sides of an issue sit down with a mediator and talk about how to support (and not judge) each other's parenting perspectives. New episodes air Mondays on Facebook.