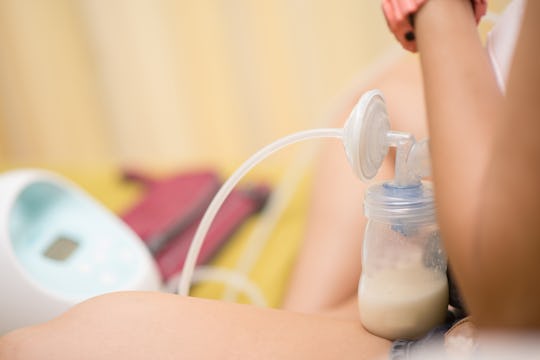 Fotolia
8 Places Every Nursing Mom Should Try Pumping
Pumping is no glamorous task. There are the various pumping parts and necessary assembly, the noise factor and its telltale sounds, and (of course), the mess. So honestly, it's no wonder most breastfeeding moms prefer to pump where there is privacy and comfort. Life doesn't always comply, though, especially if you're constantly on the go or living in a city without mom-friendly amenities (ahem, most of America). There are a lot of other places every mom should try pumping, if it's safe and she's feeling somewhat comfortable doing so, because normalizing breastfeeding and breast pumping will lead to more mom-friendly places in the country. Hopefully.
When I was breastfeeding I spent lots of hours out of the house and running in and out of the city (both with and without my baby). He was a fussy nurser at times, so I never knew when he would refuse to nurse and when I would still need to pump to help fight engorgement. After carrying around the unwieldy motorized pump everywhere, I finally wised up to the gloriously compact hand pump, which is kind of a pumping game-changer. The hand pump let me pump in more places than I thought possible, and gave me the freedom to just pump whenever I felt like it without feeling like I was hunkering down for the long haul of a 30 minute pump session.
So with the assistance of a hand pump, and its accompanying pump bag, I pumped in a myriad of places; from cars, to spare offices, to movie theaters. Honestly, you should consider doing it, too.