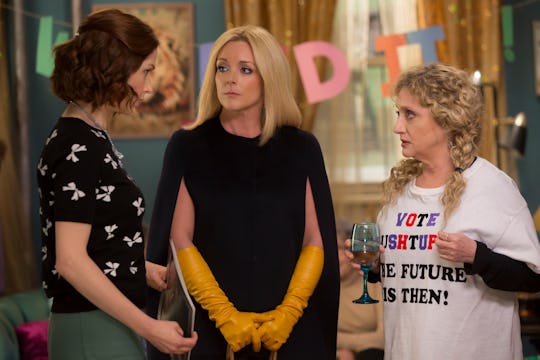 Eric Liebowitz/Netflix
'Kimmy Schmidt' Season 3 Is Full Of Political References
Even though Tina Fey hasn't been part of Saturday Night Live for years, there are usually hints of the same kind of comedy in everything else she works on. So the political references in Unbreakable Kimmy Schmidt Season 3 totally make sense and are more topical than ever. Fey, who co-created the Netflix series with Robert Carlock, has been able to churn out episodes for three seasons now with plenty of pop culture references and political jokes that are basically comedic gold and never disappoint. (Though would we expect anything less from her?)
The show was filmed right around the time of the 2016 election thereby making these various political topics feel more relevant than ever, so it's sure to hit home for a lot of fans — especially those who continue to follow the ongoing coverage of this post-election world. Jane Krakowski (who plays Jacqueline) said in a recent interview with Vanity Fair that although the show was written and almost completely filmed before the election results actually came in, they weren't able to include the actual election results or aftermath, but were able to add in some political jokes.
"I think people are naturally going to think that we're going to have more political content in the third season of Kimmy, due to the nature of Robert Carlock, and Tiny Fey, and the SNL world—their history of writing what's happening in the world today," Krakowski said. Though they weren't able to include as much as they may have wanted, there are still plenty of political reference on Unbreakable Kimmy Schmidt Season 3. Such as...
Trump University
In the Season 3 premiere, when Kimmy talked about furthering her education, Jacqueline mentioned that she attended Trump University. The fictional mascots for the school? "Trump University Pricks," naturally. In the words of Jacqueline: "Go, Pricks!"
The "Lock Her Up" Chant
In Episode 2, Lillian had people from her neighborhood yelling "lock her up" at Jaqueline — a clear homage to the chant heard at many of Donald Trump's rallies during his campaign, in reference to Hillary Clinton and Trump's allegations that she belongs in jail.
The Benghazi Song
During Season 3 Episode 4, Titus sang backup as part of his TaskRabbit job, and there were a lot of conspiracy theories and weird world views that Gordy (the composure of said songs) wanted him to sing about — one of which included a song about the Benghazi investigation. Titus sings "Benghazi! Benghazi! Benghazi! Hillary was there." Back in June 2016, the House Select Committee on Benghazi issued in its final report stating that they found no new evidence of wrongdoing by Clinton in the attacks, though some people (like Gordy, apparently) feel that this is not the case.
The Comment About Global Warming
Global warming remains an important topic to this day and is known for being a hot-bottom issue for many. While some people believe in things like climate change, others claim it's all a big conspiracy. So when Maya Rudolph's Dionne Warwick made a comment stating that "Some people say global warming is a hoax" during the hurricane telethon, it was a definite nod to all of that.
Fake News
In Episode 7, Lillian explained to Kimmy how the media uses scare tactics and how "none of it is true." This is undoubtedly in reference to Trump's numerous fake news claims against the media throughout the course of his presidency.
"Women Can Be Anything, Except A President"
When Kimmy went to church in Episode 9, she was shocked to see that the pastor was a female and remarke that, "A lady reverend? Women really can be anything. Except a president or late night host." Both of these sentiments hit a little too close to home for those who are still mourning Hillary Clinton's loss in the 2016 election or are tired of seeing so few women in late night hosting gigs.
The Balloon Factor
Season 3 Episode 12 brought back Cyndee, Kimmy's fellow mole woman, who's now promoting bunkers and is working at the Javits Center for an event. Cyndee remarked to Kimmy: "It's so depressing, there's still Hillary balloons in the ceiling," just as a lone balloon floated down to the floor. This is in reference to the fact that the Javits Center was Clinton's election night venue, meaning those balloons had originally been meant to celebrate her win — though we all know how that turned out.
The Importance Of Voting
Kimmy was left with a difficult decision, having to figure out who she should vote for: Jacqueline or Lillian? Jacqueline was all for progress while Lillian attempted to use fear tactics to swing Kimmy's vote. Sadly, the latter strategy ended up working, which isn't all that dissimilar from real life some could argue.
The "Basket Of Deplorables" Remark
Lillian referred to the people in her neighborhood as a "basket of deplorables," which was a phrase originally coined by Hillary Clinton when referring to Trump supporters.
Political and even pop culture references on Unbreakable Kimmy Schmidt are easy targets to add to the humor of the show, so it was only natural for the 2016 election to play into it somehow. And luckily, it only added to Season 3's appeal.