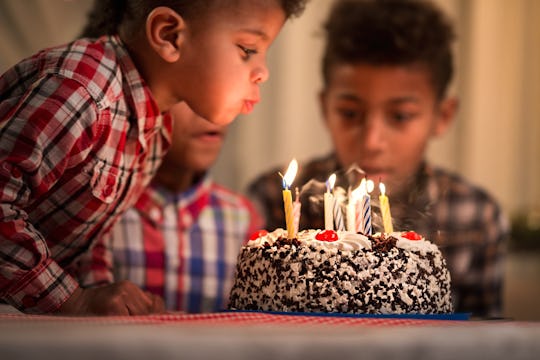 DenisProduction.com/Shutterstock
9 Reasons To Stop Throwing Your Kids A Birthday Party
I used to go all out for my kids' birthdays. Like most parents, I wanted my kids to feel special, so I bought them expensive gifts, concocted elaborate shindigs, and kept working myself to the bone to make sure every celebration was a grand one. But you guys, birthday parties suck. And they don't just suck for the parents throwing them, but for the kids attending them, too. So, my partner and I did the unthinkable, and stopped throwing birthday parties for our kids.
Now, of course I love my kids and of course I want to celebrate their birthdays with them and in a way that makes them feel special. But I think children's birthday parties have totally gotten out of control. Each year our kids (and their friends) expect some huge gathering with tons of food, expensive goody bags, and a crowd of people. It all seems so excessive and unnecessary, not to mention exhausting and time-consuming. I wanted to find a way to celebrate my kids' birthdays without the ridiculous price tag, the arduous task of planning a party, or the slew of presents they absolutely do not need.
So, last year my partner and I decided to engage in a little experiment. Instead of planning birthday parties for our kids, we decided to do something small and as a family instead. We let our kids offer suggestions, created a list of reasonable options, and, in the end, they were able to choose which special thing we'd do for their big day — things like an escape room, arcade, water park, mani/pedis, and a pumpkin patch. Each kid enjoyed the hell out of their birthdays, and we did, too. Sans a party.
Turns out, birthday parties are totally unnecessary! Seriously, you really don't need to spend all that money and all that time and all that effort to create one elaborate party your kid probably won't even remember! So if you want to ditch the celebratory shenanigans for something a little more low-key, feel free to do so... and for the following reasons: