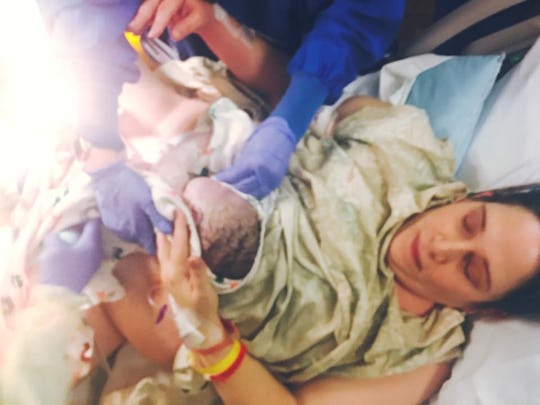 Courtesy of Steph Montgomery
9 Things You Don't Get To Ask Me About My Labor & Delivery
If you get a group of moms together, the conversation will likely lead to childbirth. People just love to hear birth stories, including, it seems, all of the gory, less-than-pleasant details. My only problem with this trend is that a lot of those details are really personal, or at least they are to me. So, yes, there are some things you just don't get to ask about my labor and delivery, because, frankly, it's none of your damn business.
I have been asked numerous questions about my labor and delivery experiences that make me wonder if people think all moms no longer have a right to privacy. I recently went to a birthday party and, within the first five minutes, another mom literally asked me if I had delivered my kids vaginally. I thought to myself, "If I am going to tell you about my vagina, can you at least buy me a drink, first?" Then, she asked if I was still breastfeeding, and quickly learned exactly how I feel about that question. Contrary to popular belief, I don't really want to discuss the state of my vagina, how I use my breasts, or if I got stitches on my labia or perineum. Especially with a stranger.
Other questions piss me off, too, because they seem to imply that there's one "right way to give birth," or that people who have short labors or who tough it out without any pain meds should get an award or something. They make me feel like people are shaming my choices to my face, or that they feel sorry for me because I didn't experience what they believe to be a "perfect birth." I actually thought my induction and epidural were pretty empowering and perfect to me, and I happen to be the only person who's opinion matters on the subject, really.
Let me give you a piece of unsolicited advice: unless I bring it up, can you please stop asking me about my labor and delivery experiences? I don't want to talk about it, and I really don't want to answer the following questions: