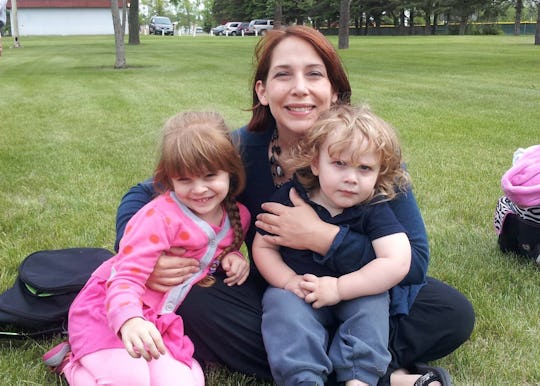 Courtesy of Steph Montgomery
9 Things You'll Want To Tell Your Kids About Your Ex
I clearly remember the first time I heard the phrase, "parental alienation." I was taking the state-mandated co-parenting course, required before my divorce from my ex-husband could be finalized. According to the course, divorced parents aren't supposed to insult or say bad things about the other parent in front of their kids. While this seems really, really unfair when your ex is a terrible person, it's also the right thing to do. Still, it's normal to have things you want to tell your kids about your ex, but won't, even if you want to with every fiber of your being.
While I know every co-parenting situation is different — and marriages end for a number of reasons, many not as "severe" or "intense" as mine — for me, these were things like the real reason we split up. Someday, I may tell my kids about how their bio-dad treated me, how he was abusive, how he lied and stole from our family, how he cheated on me from the start of our relationship, even leaving to see one of his girlfriends while I was in the hospital after our son was born, and about the terrible day when I finally decided to leave for good after so many other times when I went back. For now, they just know that it although I love them and their bio-dad loves them, it wasn't working for us to stay together.
I'd also really love to be able to blame him for things that are totally his fault. As the custodial parent, it feels like I am always the bearer of bad news. For once, it would be nice to say, "Your bio-dad cancelled his visit with you because he wanted to go to a party instead," or, "I can't afford to take you out to eat,because your bio-dad didn't pay child support this month (again)." Of course, I don't, because it would seriously hurt my kids to learn these facts, even though they are true.
I am comforted by the fact that my kids are really smart. One day they will be able to come to their own conclusions about their biological father, and I won't need to have a hand in that process. I am also comforted by the fact that, again, not every divorce scenario looks like mine. There are more than a few divorced parents who get along famously and co-parent in a healthy way, and the thoughts those parents have about one another are probably very different than the thoughts I have about my ex-husband. However, and for now, I can't explain what crosses my mind when I think about my ex. Not to my children, at least. Instead, I'll be over here biting my tongue and not saying a damn word.