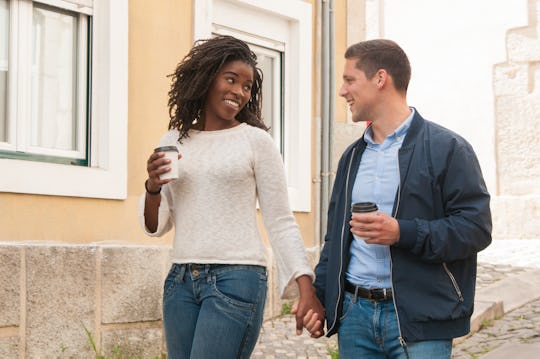 Shutterstock
If A Man Asks You Any Of These 9 Questions, He Might Think You're "The One"
I knew I was "the one" for my fiance when he asked what my ring size was totally out of the blue as we were driving one afternoon. I'd told him the stories of my friends; one whose now-husband thought her ring size was a two (that's extremely small, for those not acquainted with jewelry sizing) and bought her a doll-sized engagement band, and another friend whose husband accidentally grabbed a thumb ring from her jewelry box and had her diamond ring sized accordingly. It looked like a hula hoop on her finger. There are, however, many bizarre questions men ask when looking for "the one" that come before ring sizes and wedding talks.
Sometimes when you're on a date that seems to be going well ⁠— or when you're in a relationship and are hoping to take the next step ⁠— it's hard to figure out what kind of questions convey serious, long-term interest, and what's casual small talk. With this in mind, I combed the internet, spoke to a matchmaker, a relationship expert, and women in relationships, all to find the unexpected questions men may ask when looking for long-term partners. Spoiler alert, they go far beyond What are your hobbies? Or What do you want for dinner?