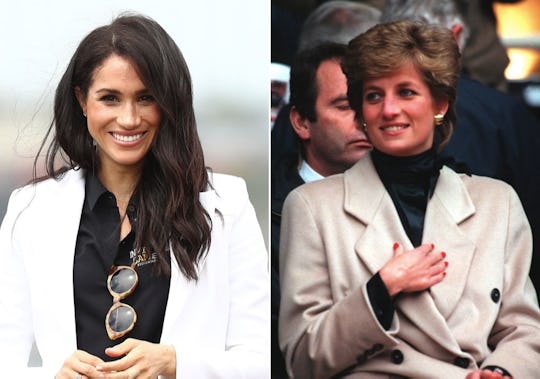 Pascal Rondeau/Getty Images Sport/Getty Images Mark Metcalfe/Getty Images Entertainment/Getty Images
9 Unique Qualities Meghan Markle & Princess Diana Have In Common
I'm not sure what it is about Meghan Markle that captured the world's attention a few years ago and has kept it ever since. Maybe it's the fact that she married Prince Harry, the youngest son of the late Princess Diana and the one person who many have said to most resemble her. I think millions of royal watchers felt a deep sense of almost maternal connection to Prince Harry, who always seemed so close to the mother he lost at age 12, which is why people might look for some unique qualities Meghan Markle and Princess Diana have in common. Now that Prince Harry has found love, I think everyone wonders how his mother would feel about it.
If Prince Harry is to be believed, Princess Diana and Meghan Markle would have been good friends if she hadn't tragically died in a car crash in Paris in 1997. The new father to baby boy Archie shared in an interview with the BBC in 2017 that his mother would have been "over the moon" with his choice in a wife, and that the two women would have "been thick as thieves, without question."
Considering all of the small ways the two women were so similar, both in personality and in circumstance, I think Prince Harry is probably right.