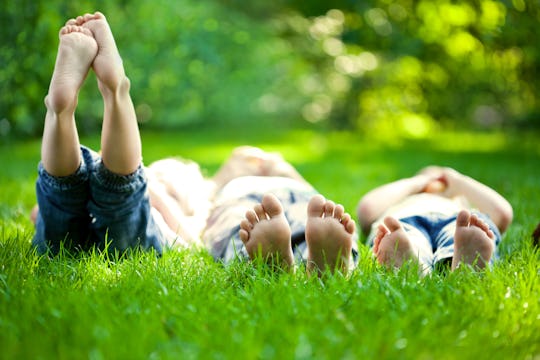 Fotolia
9 Ways Your Kid's Friends Might Be Teaching Them To Be Less Body Positive
If I could go back in time and talk to the girl I was, the one who was talking about going on a diet at an absurdly young age, there are so many things I would say. I'm not sure who started talking about their body first, in my group of friends, but I know we all influenced each others' opinions of ourselves. It makes me wonder how my own kids' friends are teaching them to be less body positive.
Outside of family, a child's peers are the most influential when it comes to important aspects of their life, including body image. All the work we, as parents, do at home on body positivity can be completely undone when a kid has friends who consistently criticize or speak negatively about their own (or others') bodies.
As the stepmother of a teen girl, I had to ramp up my efforts considerably once I noticed my stepdaughter talking negatively about herself. I'm not sure how successful I was, given my limited influence, but it's made me become more vigilant with my two younger kids. My 5-year-old daughter, especially, is at the age when she may begin to be vulnerable to peer pressure. I hear her saying things like, "I want to wear these bows in my hair, because then I'll be pretty," and I wonder where it came from, because it certainly wasn't me.
In the end, I'm still not sure how much I can do to erase any negative impact my daughter's friends may have on her body image, but I'll keep telling her she doesn't need anything to make her more beautiful than she already is.