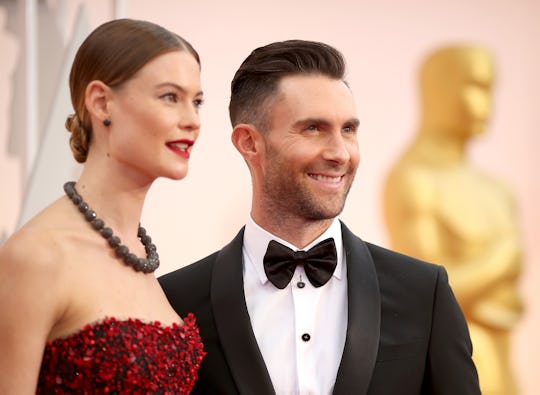 Christopher Polk/Getty Images Entertainment/Getty Images
Adam Levine Says His Daughter Is Obsessed With Her New Baby Sister, & It's So Pure
The bond between two sisters is often a special one — and for Adam Levine's daughters, that bond started right off the bat. The Maroon 5 frontman appeared on The Ellen DeGeneres Show to talk about his new baby on Monday, and apparently, Adam Levine's older daughter is obsessed with her new baby sister in the cutest way.
Levine and his wife, model Behati Prinsloo, welcomed their second daughter, Gio Grace Levine, in February 2018. Gio's older sister, Dusty Rose, who was born in September 2016, has taken a serious liking to her younger sis.
"She's obsessed with Gio to the point to where every morning when she wakes up the first thing she says is, 'Gio! Gio! Gio! Gio!' and runs into her room. It's really cute. Totally in love with her," Levine told DeGeneres on the talk show. "She's a little rough with her because she doesn't understand... So she'll get in her face and do crazy stuff. But it's just so much fun — being a dad is the most fun thing on the planet."
A few days after giving birth to Gio, Prinsloo shared a photo of the baby's teeny-tiny feet on Instagram. "Gio Grace Levine 2/15/18. She's got her dads toes 👼🏼," the model joked.
Levine and DeGeneres further joked about the whole foot resemblance thing on her talk show. DeGeneres told Levine that she saw a photo of Gio's feet online, and Levine replied:
We've only posted pictures, I think, of her feet. She has my feet, which is a bummer for her. Well, at least right now, maybe they'll change.
The singer also opened up about wanting to expand his brood. "Oh yeah, we want like, a lot," he said when DeGeneres asked if he and Prinsloo plan to have more kids. "Like five? Like Maroon 5?" DeGeneres joked.
"We have to have a band of children," Levine responded.
Levine and Prinsloo first announced they were expecting their second child back in September 2017. "ROUND 2..." Prinsloo coyly wrote on Instagram, alongside a mirror shot of her bearing her bump.
A few weeks before announcing her second pregnancy, Prinsloo opened up to People about how much she and her husband love being parents.
I think for both of us, we're just so obsessed with being a family and having a family — seeing this next step in our life ... He's such an incredible dad, and so excited to see her grow up. It's so awesome.
She also told the outlet how welcoming Dusty opened her heart up to an even deeper love:
I love Adam, and when you get married and you fall in love with someone, you think that there's no greater love than that love ... And then you have a baby, and it's just next-level love.
It's clear that there is so much love between Levine and Prinsloo. He is constantly bowing down to his wife in Instagram posts, and he always makes sure to give her a shoutout at major events. At his star ceremony on the Hollywood Walk of Fame in February 2017, he spoke passionately about Prinsloo and Dusty, as per ET Online:
I have a daughter, I have the most beautiful wife in the entire world. I am the luckiest person who has ever lived, and it has nothing to do with me, it has to do with the people who love me.
There's no doubt that another child (or three children, if they really decide to go for the whole Maroon 5 thing) would be a well-received addition to the Levine-Prinsloo household — and it's safe to say that Dusty will be head of the welcome committee.
Check out Romper's new video series, Bearing The Motherload, where disagreeing parents from different sides of an issue sit down with a mediator and talk about how to support (and not judge) each other's parenting perspectives. New episodes air Mondays on Facebook.