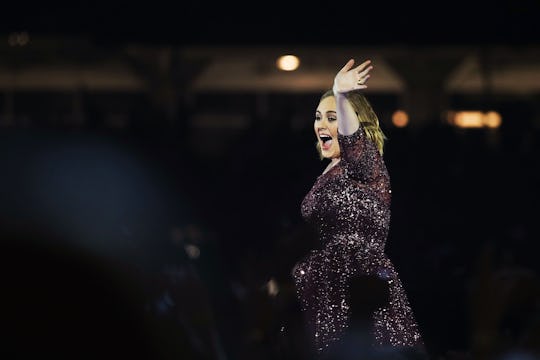 Cameron Spencer/Getty Images Entertainment/Getty Images
Grab Your Tissues: Adele's Touring Days May Be Over
Earlier this month, a beloved British superstar delighted fans by confirming during a show in Australia that she is, in fact, married to her longtime partner. But at another show down under Sunday night, she delivered what may be some less welcome news: Adele may never tour again after she wraps up her massive "Adele Live 2017" jaunt around the world, which has so far included more than 100 shows since launching more than a year ago in February 2016.
"Touring isn't something I'm good at ... applause makes me feel a bit vulnerable. I don't know if I will ever tour again," the 28-year-old "Hello" singer revealed to a sold-out audience at Auckland, New Zealand's Mount Smart Stadium, according to The New Zealand Herald. "The only reason I've toured is you. I'm not sure if touring is my bag."
When Adele completes the fourth and final leg of her tour in Britain in early July, she will have performed more than 120 shows promoting her Grammy-winning album, 25. And, although Adele typically sells out the venues at which she performs, the admission that she's not crazy about the whole enterprise isn't exactly shocking: In 2011, she was upfront about her aversion to the idea of playing in an arena (You think I'm gonna play a f--king arena? Are you out of your mind?" she told Q magazine). Still, her last slew of scheduled shows of 2017 are scheduled for London's storied Wembley Stadium.
So, perhaps the moral of the story for mourning Adele fans is never say never? Or maybe Adele really is calling it quits for good. After all, touring the world for more than a year undoubtedly took her away from the young son she shared with now-husband Simon Konecki, whom she recently (but surreptitiously) married. Or, as The Los Angeles Times' Libby Hill hypothesized, Adele may have grown wary of live performances after high-profile blunders at two consecutive Grammys awards shows.
Most recently, she asked to start over when she messed up early on in performing "Fastlove" as a tribute to pop legend George Michael, who had died on Christmas Day 2016. But it was a move that, honestly, probably only endeared her to her fans even more — just as did her tearful onstage shoutout to Beyoncé that February night upon winning the Album of the Year award she believe the Queen rightfully deserved.
At the end of the day, Adele is an enormously gifted and accomplished artist whose star power has a timeless, enduring quality. Even if she does ultimately decide that touring isn't how she wants to spend the rest of her career (at least for the foreseeable future), it's hard to imagine her distancing herself from the music business entirely. After all, an Adele who never travels again is still one who can enthrall her audiences with her unbelievable vocals and songwriting capabilities.