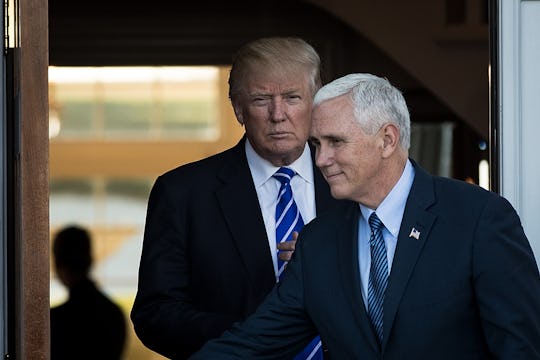 Drew Angerer/Getty Images News/Getty Images
All Of Trump's Cabinet Picks So Far & What You Need To Know About Them
There are now less than two months left until President-elect Donald Trump places his hand on a bible, takes his oath of office, and becomes the president of the United States on Jan. 20. On that day, his Cabinet nominees should theoretically have their official titles, awaiting approval from Congress, which will determine whether or not they'll be with the Trump administration for the next four years. But for the next few critical weeks, Trump will continue picking people to fill his cabinet — so it is best to do your homework and start getting familiar with those confirmed nominees now, so you don't get overwhelmed later. A list of all of Trump's Cabinet picks so far reveals a lot about what direction Trump wants to take the country and offers insight on the incoming administrations inner workings (and controversies) as well.
While it may seem like there has been a lot of confirmation of who will be a part of Trump's Cabinet, Trump's Cabinet picks actually makes up a super short list — most of the other names thrown out there of late have largely been rumors. According to The Washington Post, Trump's transition team will have to fill 4,000 positions eventually, all of whom will work in the agencies that "make up the executive branch of government."
The attention right now, of course, is less on the 4,000 positions and more on the people who will head up those agencies and roles. (As stated, it's important to remember that while Trump has picked some of the 15 Cabinet department heads thus far, those heads will need confirmation from Senate in order to officially be named.) Here are all of Trump's Cabinet picks (so far) and what people need to know about them:
Secretary Of State — Rex Tillerson
Perhaps the most divisive of Trump's picks so far, Tillerson, CEO of ExxonMobile, has the auspicious honor of being tapped as secretary of state for the incoming administration — arguably one of the most powerful Cabinet positions in the lineup. Tillerson has drawn heavy criticism for his past business dealings and ties to Russia, specifically Russian President Vladimir Putin.
"Congressional Republicans face a vexing dilemma with the impending presidency of Donald J. Trump," The New York Times wrote on Wednesday, Dec. 14, shortly after the official announcement of Tillerson's pick was made public, adding,
Will they maintain the tough line on Russia that has been central to their foreign policy for decades, or cede that ground to Democrats? ... Now Republicans will have to reconcile that party catechism with their vote on Mr. Trump's selection as secretary of state, Rex W. Tillerson ... who has described his relationship with Mr. Putin as close, [and] was once presented with the Russian Order of Friendship, one of the highest honors a foreigner can receive.
Trump so far has expressed confidence in Tillerson's relative inexperience, saying in a media statement that "[Tillerson's] tenacity, broad experience and deep understanding of geopolitics make him an excellent choice" for the State Department. "He will promote regional stability and focus on the core national security interests of the United States," Trump said. "Rex knows how to manage a global enterprise, which is crucial to running a successful State Department, and his relationships with leaders all over the world are second to none. I can think of no one more prepared, and no one more dedicated, to serve as Secretary of State at this critical time in our history."
Secretary Of Education — Betsey DeVos
Betsy DeVos, billionaire and Republican activist and philanthropist from Michigan, is Donald Trump's confirmed pick for Secretary of Education. Like Trump, she has little experience with politics and a lot in business — DeVos is the chair of The Windquest Group, an investment management company as well as chair of the American Federation of children, according to NPR. In the past, she served as the chairwoman of the Michigan Republican Party. According to NPR, she is "a strong supporter of school choice but has limited experience with public education."
Attorney General — Jeff Sessions
Four term Republican Sen. Jeff Sessions is Trump's confirmed pick for Attorney General. Sessions was one of Trump's first endorsers and served as his "chief resource on policy" according to The Washington Post. According to CNN, Sessions is likely to "place a greater emphasis on more traditional law areas such as drug and immigration reinforcement." (The Post also noted that Sessions has been reportedly "dogged by accusations of racism throughout his career.") Sessions has also served as U.S. Attorney for the Southern District of Alabama and as Alabama's attorney general. Sessions' supporters say he will "help change the way Washington works."
Energy Secretary — Rick Perry
Perry, a relative D.C. veteran, who previously ran two failed bids for the White House of his own, in 2012 and 2016, has been tapped as Trump's pick for secretary of Energy, the department the former Texas governor famously forgot when listing agencies he would cut if elected president, during a primary debate in 2012.
"As the Governor of Texas, Rick Perry created created a business climate that produced millions of new jobs and lower energy prices in his state, and he will bring that same approach to our entire country as Secretary of Energy," Trump said in a media statement on Dec. 14. "My administration is going to make sure we take advantage of our huge natural resource deposits to make America energy independent and create vast new wealth for our nation, and Rick Perry is going to do an amazing job as the leader of that process."
Secretary Of The Interior — Ryan Zinke
Montana Congressman Ryan Zinke was tapped as Trump's pick for secretary of the Interior, a position that carries with it much more weight than one might think, according to Romper's Karen Fratti:
As it turns out, "Interior secretary" is actually one of the most important gigs in an administration. According to department's website, the secretary is responsible for using "sound science to manage and sustain America's lands, water, wildlife, and energy resources" and is charged with "honor[ing] our nation's responsibilities to tribal nations, and advocates for America's island communities."
This department is responsible for land and water conservation, consulting and rebuilding infrastructure after a natural disaster like a hurricane, and, possibly most importantly, is on the front lines of Native American issues. So something like the Standing Rock Sioux tribe's battle with the Army Corps of Engineers is on the top of the Interior Department's "to-do" list.
An ex-Navy Seal commander, Zinke, as Romper's Jen McGuire pointed out in a recent profile, "is a supporter of the Keystone pipleine, and recently criticized an Interior department rule that was intended to forestall accidental gas and methane release on federal lands."
Secretary Of Commerce — Wilbur Ross
Like DeVos, Wilbur Ross is also a billionaire with an estimated net worth of $2.9 billion, according to The New York Times. Ross is a relative outsider to politics — he is a self-made billionaire who made his money through investments and as a distressed asset investor according to Forbes. Ross also served as Trump's economic policy advisor during Trump's campaign. According to The Times, Ross is considered to be "either a hero or villain in his career" — without much in between.
Deputy Secretary Of Commerce — Todd Ricketts
Ricketts is a businessman and co-owner of the 2016 MLB World Series winning team, the Chicago Cubs. He is the son of Joe Ricketts, the billionaire online brokerage CEO who founded and served as chairman of the firm TD Ameritrade. Ricketts previously supported Trump's rival, Scott Walker, during the 2016 primaries, and continued to oppose Trump even after Walker suspended his campaign, donating $5.5 million to an anti-Trump super PAC. (Ricketts and his family later donated $1 million to Trump's general election bid.) Regardless, in an email to the press on Wednesday, Trump praised Ricketts, saying,
Todd Ricketts is an immensely successful businessman with unparalleled knowledge of the finance industry. As Deputy Commerce Secretary he will help us cut waste and streamline government so that it works for the people of America. The incredible job he and the Ricketts family did in the purchase and turnaround of the Chicago Cubs – one perfect step after another, leading to the World Championship, is what I want representing our people. I am very proud to have him on our team.
U.N. Ambassador — Nikki Haley
A former Trump critic, South Carolina Gov. Nikki Haley is Trump's pick to be his ambassador to the United Nations. According to Politico, Haley is a "rising star" in politics, but would be "taking on a position that requires intense diplomatic and navigational skills in an often frustrating international bureaucracy" — she has never served in the federal government. Trump has called her "a proven deal maker" and has "a track record of bringing people together."
CIA Director — Mike Pompeo
Trump's CIA Director is Kansas Republican Rep. Mike Pompeo, who served three terms in the House where he was "a conservative voice on national security issues," according to CNN. Pompeo is a former Army tank officer and will be, according to The New York Times, "one of the most overtly partisan figures to take over the C.I.A." According to CNN, Pompeo was one of Hillary Clinton's most outspoken critics.
Secretary Of Defense — James Mattis
Regarded as a brilliant military strategist, retired Gen. James "Mad Dog" Mattis has been tapped as Trump's pick for defense secretary. Throughout his 40-year military career, Mattis earned major accolades for his role in leading the 1st Marine Division into Baghdad back in 2003. NPR's Rachel Martin in 2010 noted that, aside from "Mad Dog," Mattis' other nickname was "Warrior Monk," due to his propensity to carry books on Roman philosophy into the battlefield and his vast personal library of over 6,000 books.
Mattis was once criticized for comments he made during a 2005 panel discussion in San Diego, California, in which he reportedly claimed he "love[d] to shoot some people." Though he declined to respond to numerous outlets' requests for comment at the time, his colleague, then-Marine commandant Gen. Michael Hagee, came to Mattis' defense, saying that Mattis had "intended to reflect the unfortunate and harsh realities of war," adding that he "agree[d] he should have chosen his words more carefully."
White House Security Advisor — Michael T. Flynn
Army Lt. Gen. Michael Flynn will serve as Trump's White House Security advisor. This is a position that won't require confirmation from Senate. Trump has called Flynn "one of the country's foremost experts on military and intelligence matters" and will be "an invaluable asset" to the Trump administration, according to CNN.
Secretary Of Housing & Urban Development — Ben Carson
Renowned neurosurgeon Ben Carson, formerly Trump's rival on the primary campaign trail (Trump once insinuated that Carson's self-described "pathological temper" during his teenage years — which he highlighted in his memoir Gifted Hands — was comparable to the behavior of a pedophile at a campaign rally in Fort Dodge, Iowa last year) was tapped as Trump's secretary of Housing and Urban Development in early December. Despite the fact that Carson has no experience in that sector, fellow Republicans have praised his willingness to take on the challenging task at hand, with Senate Majority Leader Mitch McConnell stating that Carson's "life-long career of selfless service will be a positive addition to the incoming administration," according to Trump's transition team.
Chief Strategist — Steve Bannon
Steve Bannon made waves when he was chosen as Trump's chief strategist. Bannon is the former executive of Breitbart News, a conservative media website. Since being chosen as chief strategist, Bannon has brought the term "alt-right" into the mainstream and is considered to be one of Trump's anti-establishment picks for his cabinet. Bannon's position does not require Senate approval.
White House Chief Of Staff — Reince Priebus
Former Republican National Committee chair Reince Priebus is a "Washington insider" who is "viewed broadly acceptable" by the Republican party, according to The Washington Post. Trump's decision to choose Priebus as his chief of staff signaled "Trump's willingness to work with the establishment." Priebus provides the experience and composed attitude that Trump tends to lack in certain situations. Priebus' position does not require Senate approval.
Secretary Of The Treasury — Steve Mnuchin
Mnuchin is a businessman, movie financier, and — perhaps most notably — a Goldman Sachs alum. As The Guardian noted, Mnuchin was once dubbed a "foreclosure king" after he took advantage of the financial crisis to buy up failing mortgages, evict homeowners, and rebrand the newly-purchased IndyMac mortgage lender, now operating under the name OneWest. OneWest subsequently found itself the subject of a complaint that alleged the lender was engaging in racially discriminatory practices; It was also accused of "being too quick to foreclose on struggling homeowners," according to Fortune. (Representatives for Mnuchin did not immediately respond to Romper's request for comment.)
Mnuchin is credited on as a producer on several films after he bankrolled such blockbusters as Suicide Squad, Avatar, American Sniper, and Batman v Superman: Dawn of Justice. He recently had a cameo in the film Rules Don't Apply as a Merrill Lynch Executive. According to IMDB, Mnuchin also previously served as "co-chairman of the now bankrupt Relativity Media."
EPA Administrator — Scott Pruitt
To say Pruitt, current Oklahoma attorney general, is a divisive pick to head up the EPA is an understatement. The lawyer and former congressional candidate (he lost out to Cathy Keating, then-state first lady, in the 2002 election cycle) has been described by Politico as openly hostile to the EPA in the past. As Romper's Karen Fratti puts it, in her profile of the controversial AG,
When you hear people say that Pruitt is "hostile" towards environmental protection, it's not an exaggeration, no matter what side of the political aisle you tend to agree with. He's actively suing the EPA, the very agency he could be in charge of, over a few initiatives that began under the Obama administration. Pruitt is one of many state attorneys general that is specifically suing the EPA's Clean Power Plan, which is an initiative targeted at the electricity sector's reduction of greenhouse emissions. Pruitt has also sued the EPA over their regulations in the oil and gas sector that mandate reducing methane gas emissions.
SBA Administrator — Linda McMahon
McMahon has been tapped to lead the Small Business Administration (SBA) in Trump's Cabinet, a department for which Trump says the WWE magnate will be "a phenomenal leader and champion."
"My America First agenda is going to bring back our jobs and roll back the burdensome regulations that are hurting our middle class workers and small businesses," Trump said, in a transition statement on Dec. 7. "Linda has a tremendous background and is widely recognized as one of the country's top female executives advising businesses around the globe. She helped grow WWE from a modest 13-person operation to a publicly traded global enterprise with more than 800 employees in offices worldwide. [She will help] unleash America's entrepreneurial spirit all across the country."
Labor Secretary — Andy Puzder
Puzder is the CEO of CKE restaurants, the parent company of such popular chains as Hardees and Carl's Jr., and a frequent legal contributor to such outlets as The Wall Street Journal, CNBC, The National Review, and Politico. Like several of his Trump-appointed colleagues, Puzder is no stranger to controversy either, having previously stated that raising the minimum wage kills jobs and that automation in the fast food industry (which would, ironically, kill jobs) would be a good thing. He has also been a staunch critic of many worker protections and his company paid $9 million in settlements over three class-action lawsuits regarding overtime pay in 2004, according to CNN Money.
However, of Puzder's appointment, Trump issued a glowing statement, noting,
Andy will fight to make American workers safer and more prosperous by enforcing fair occupational safety standards and ensuring workers receive the benefits they deserve, and he will save small businesses from the crushing burdens of unnecessary regulations that are stunting job growth and suppressing wages.
Secretary Of Homeland Security — John Kelly
Kelly, a retired Marine general with a decorated career history, was officially tapped as Trump's DHS pick on Dec. 12. At the time, Trump issued a statement saying:
Gen. John Kelly's decades of military service and deep commitment to fighting the threat of terrorism inside our borders makes him the ideal choice to serve as our Secretary of the Department of Homeland Security. He is the right person to spearhead the urgent mission of stopping illegal immigration and securing our borders, streamlining TSA and improving coordination between our intelligence and law enforcement agencies.
However, as Romper's Andrea Frazier noted, Kelly hasn't always been a staunch Trump ally, like some of his selected colleagues:
Throughout 2016, Kelly was largely silent about his personal thoughts on domestic politics — which he called a "cesspool" in July — and noted that, while he would be willing to serve in either a Trump or Clinton administration, he would not endorse either, according to Foreign Policy.
In the past, Kelly has been critical of President Obama's efforts to close the prison at Guantanamo Bay, calling the documented human rights abuses there "foolishness," according to the ACLU.
As the end of Trump's transition period nears, his list of Cabinet picks will only continue to grow — and with the nation already divided, only time will tell whether those picks will lend their voices to a message of unity, or shut it down.
(Additional reporting by Melanie Schmitz)