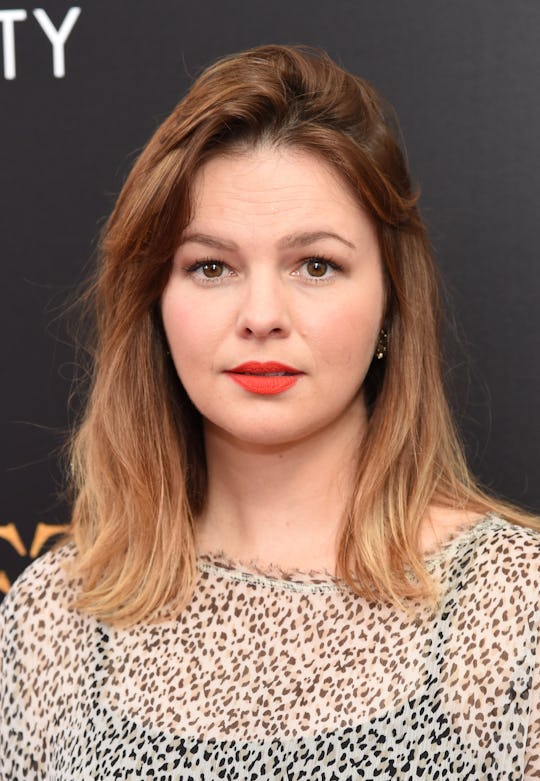 Jamie McCarthy/Getty Images Entertainment/Getty Images
Amber Tamblyn's Mom Instagrams Are On Point
Talented, politically engaged, and as down-to-earth as they come, actress Amber Tamblyn has been offering some real talk about what it means to be a mom since announcing that she was pregnant back in October. And that relatable, sometimes humorous commentary is as strong as ever since the Sisterhood of the Traveling Pants alum welcomed a daughter with husband David Cross on Feb. 21. From considering the implications of raising a girl in the age of Donald Trump to unabashedly rockin' the breast milk leakage, Amber Tamblyn's mom Instagrams and writings position her as a realistic, compassionate, and thoughtful voice on parenting and our nation's political climate.
Tamblyn, 33, whom you may recognize from her recent starring role in the 2017 Netflix original movie Girlfriend's Day, married the 52-year-old Cross in 2012. The couple's new baby girl — whose real name is still a mystery — is their first child together. The two are vocal critics of Donald Trump, with Cross having skewered the now-president's "white power rallies" in his standup comedy routine in March. Given Trump's long and colorful history of misogyny and Tamblyn's own pushback to it (more on that later) it's clear that the couple is going to bring up their daughter and potential future children with some badass feminist principles and a wicked observational sense.
That is, if Tamblyn's own Instagrams about being a mom are any indication.
Announcing Her Daughter's Birth
Tamblyn took to Instagram with an adorable video of her newborn's tiny foot emerging from a pink blanket to announce that she was finally here. And then she trolled her fans with the big "unveiling" of her name. "David and I are proud to announce the birth of our daughter, Dauphinoise Petunia Brittany Scheherazade Von Funkinstein Mustard Witch RBG Cross Tamblyn-Bey jr.," she hilariously captioned the post.
It was at once an commentary on the oftentimes whacky-seeming names that celebrities give their children, as well as a shoutout to two contemporary feminist icons: Beyoncé and Supreme Court Justice Ruth Bader Ginsburg, or the Notorious RBG.
The name is definitely a joke, but the sentiment is not: "#TheFutureIsFemale," Tamblyn tagged the post.
A Personal Trump Takedown
Shortly before her daughter's birth, Tamblyn posted a cartoon by Nick Anderson, a cartoonist for The Houston Chronicle. Depicting the now-president walking into a dressing room for the Miss Teen USA pageant, which he owned at one point, it's at once a commentary on the GOP's preoccupation with restricting trans kids' access to school bathrooms and the many, many allegations of sexual harassment and assault against Trump (all of which he's denied).
And the post is even more poignant in light of the fact that Tamblyn herself was compelled to publicly share the story of her own sexual assault after video surfaced of Trump talking about groping women without their consent in October. In a subsequent column for Glamour magazine announcing her pregnancy, Tamblyn reflected on a conversation she had with her mom about the experience, and, because this was pre-election, imagined a world in which her daughter would never know Donald Trump's name.
"Two Of My Favorite Hands"
In another post, Tamblyn shared a photo of her child holding a mystery adult's finger, captioning it "Two of my favorite hands." It's a sweet display of what — and who — really matters to Tamblyn.
The Leakage Is Real
Tamblyn's most recent mom Instagram is arguably her least glamorous and most relatable one yet. It's a mirror selfie of her new mom sporting a rumpled grey t-shirt with unmistakable breast milk stains. The caption? "Who Wore It Better?" she asked. "Left tit or right tit? #MilkLife#StarsTheyreJustLikeUs!"
Obviously, breast milk leakage is a real problem that people should talk about more. So, this just goes to show that Tamblyn is equally unafraid to dive into the politically uncomfortable and the slightly icky realities of breastfeeding alike — and the whole conversation about motherhood, feminism, and women's equality is better for it.